In an age when hectic schedule, rising pollution levels and stress have become part and parcel of life, health problems can crop up any time. Disorders usually associated with people in the golden years of life have started affecting those in their mid-30s- as it is. That explains why the awareness about healthy lifestyle and diet has grown, as has the percentage of people opting for health insurance policies. While suitable insurance plans safeguards you from bearing the expense for various severe and chronic disorders, you should tread with caution. The market is replete with numerous health insurance plans and choosing the wrong one can lead to trouble later.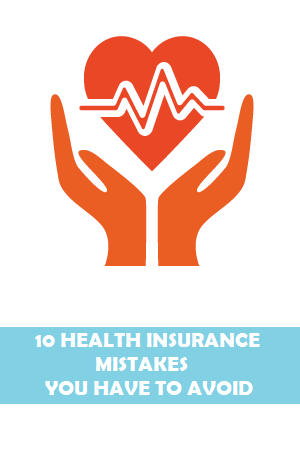 Health Insurance Buying Mistakes You Should Avoid At All Costs
People end up buying unsuitable health insurance plans under many situations. First time buyers get confused about making the right choice- owing to the abundance of options. Some people rely on what their close friends or colleagues think in this regard and buy unsuitable policies.
Listed below are the major mistakes to avoid when buying health insurance policies:
1. Inadequate coverage
It is very important that you understand the coverage offered by a health insurance plan before buying it. The coverage may vary greatly from one policy to another. You also need to think of diseases and treatments excluded by a policy. It is necessary to analyze if you have a family history of developing any such diseases. As a matter of fact, most policies will exclude certain types of diseases, including a few pre-existing ailments. Buying a policy with insufficient coverage will bleed your wallet later and lead to other hassles too.
2. Buying it for tax deduction benefits
While buying a health insurance policy and renewing it over the years makes you eligible for getting income tax benefits- that should not be the sole reason for buying such a policy. Remember the fact that you are buying such a policy to cover medical expenses and there are many other ways to get tax deduction benefits! Or else, you may end up buying a policy with tax benefits that excludes major areas pertaining to your health.
3. Buying in a hurry
As a matter of fact, you should not purchase any kind of insurance plan in a hurry and the same applies to health insurance policy. You should compare several health insurance policies carefully. There are some online portals where you can compare and analyze plans side by side and get a better understanding. You should think of your financial conditions and existing expenditure before buying the policy.
4. Ignoring the riders/add-ons
A majority of people who buy and renew health insurance policies often ignore the riders or add-ons offered by the company. While not all of the riders offered by the insurance firm may bring you great benefits you should not ignore all of it. Some riders may be really beneficial while the cost is insignificant. It is good to add accident riders or critical illness riders to your main plan. If the critical illness runs in your family, it is even more important.
5.  Choosing with focus on premium amount
Of course, you have a monetary limit for things you buy including an insurance policy. However, it would be unwise to buy a health insurance plan based solely on lower premium amount. There can be more illness exclusions in such policies than in others and it may have longer waiting periods for major ailments.
6. Skipping the policy terms
This is a mistake most people make when buying health insurance policies. Keep in mind that skipping the policy terms before buying it may cost you dear afterwards. If you do not understand any term or medical jargon, ask the company to resolve queries. If certain types of treatments are excluded in the policy or get partial coverage- you need to get the facts clear on those.
7. Overspending
Just as it is not wise to buy a health insurance plan based solely on low premium, spending an excessive amount in premiums is not advisable either. You have to analyze factors like your medical history, health conditions, pre-existing ailments, lifestyle before buying a plan. Every health insurance company offers different plans and you need not always go for the one with highest coverage and maximum premium. You should understand the coverage you actually need and choose a plan accordingly.
8. Hiding medical history
Based on your age and type of plan chosen, the insurance company will ask you to provide medical history details. You will have to specify diseases and treatments you had in the past. Hiding facts when buying the policy can prove to be a hassle some for you. If the insurance company figures out you deliberately lied to them earlier, they may reject your reimbursement claim later. This defeats the sole purpose of buying the policy.
9. Not checking online offers
A section of health insurance buyers, especially those who are not used to buying things online- buy policies directly from insurance office branches or through the agents. While there is nothing wrong about buying policies in traditional ways, buying online may fetch you discounts. You can find portals where buying health insurance policies get you discounts. What's more, online renewal of such policies also fetches you discounts.
10. Not checking network health care facility coverage
Every insurance firm offers coverage for healthcare setups like hospitals, specialty clinics and diagnostic centers, etc. It would be wrong to overlook the hospital network coverage offered by an insurance company when buying any of its policies. In case, any of its covered healthcare facilities are not located nearby- you will have to travel to distant places to get coverage or free hospitalization and treatment when medical emergencies crop up.
Summing it all up
Whether you buy a general health insurance or a cancer insurance plan, do not act in hurry to evade hassles afterwards. There are various factors to analyze and without these, you will not be able to buy the right policy.
About Aegon Life