How to Get Rid Of Termites?: Those irritating creatures that lurk around corners, unnoticed behind walls and wooden artifacts! And, when you least expect it, these tiny white insects known as termites can eat off everything you own and shake the core foundation of your house. Before your woodwork and books start becoming part of their staple diet, it needs no genius to figure out that you need to destroy them.
Internally hollow furniture and creaking floors are dead giveaways that tell you, you need to get rid of the prolific wood-destroying pests that have found a permanent residence in your home. However, if you think that the professionals you hire will charge you a bomb, think again as we have compiled together a list of home remedies you can use to get rid of termites effectively.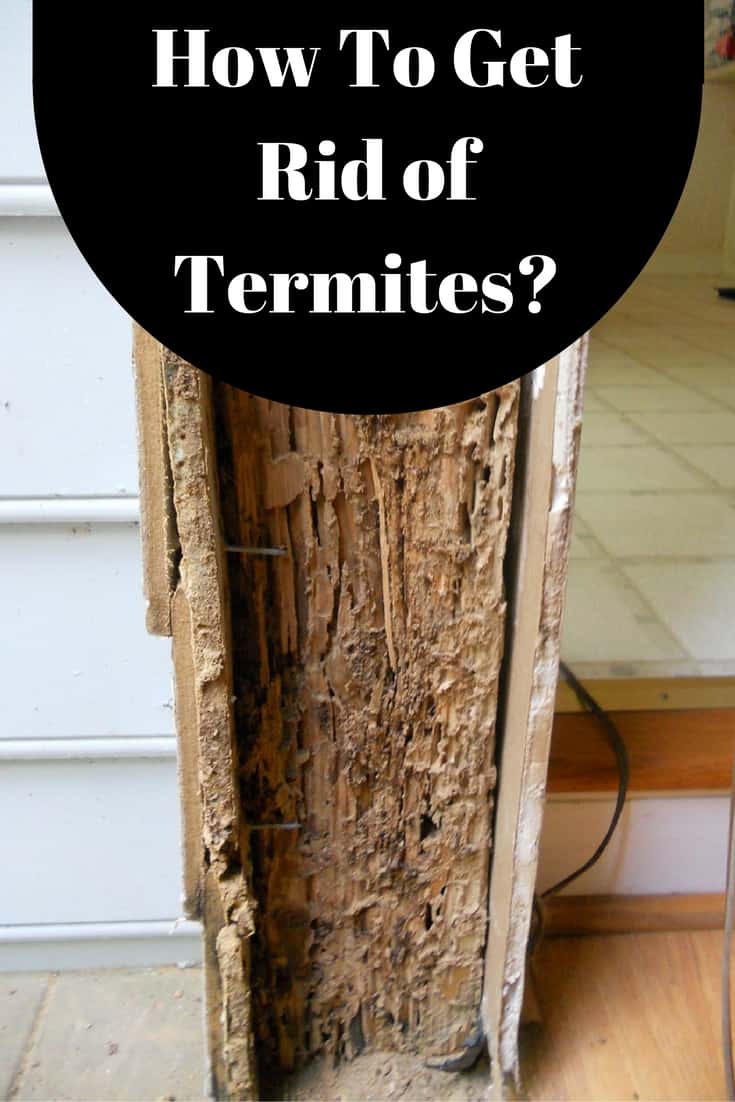 Home Remedies to Get Rid Of Termites Naturally
1. Borax (Sodium Borate)
Borax, also known as sodium borate proves to be a sure shot natural cure for termites. Borax is one of the safest remedies you can find to get rid of termites. Once they enter the body of termites, they shut down their nervous system and dehydrate them. Borax can in fact terminate resilient subterranean termites.
How to use it: Mix one teaspoon of borax powder in an eight-ounce cup of hot water. Spray this solution onto wooden surfaces where you think termites have made their home. Within a few days, you will be rid of the termite infestation.
Also read: How to Get Rid of Lizards?
2. White Vinegar
Did you know that you can use white vinegar to treat a bad infestation of termites? An experiment conducted with white vinegar gave some interesting results. Untreated wood infested with termites was placed with a mixture of white vinegar and water. Eight days later, the termites were found dead. Vinegar is a safe and foolproof method to get rid of termites, especially if you have young children at home and do not want to resort to chemical alternatives.
How to use it: Mix the juice of two lemons and ½ a cup of white vinegar. Pour this solution into a spray bottle, spray it onto the infected areas. You can spray this mixture as and when you please.
Must read: How to Get Rid of House Fly?
3. Salt
The very mention of the word termites can trigger fear and worry in the hearts and minds of any homeowner. Once your house is infested with termites, it can get very difficult to bring the situation under control. But if you are here today looking for a remedy that helps in getting rid of termites the natural way, simply try salt. Though this method may not kill all termites, you will see considerable results in barely a few days.
How to use it: Take equal parts of salt and warm water in a bowl. Stir it until the salt blends in the water. Fill a syringe with this mixture and inject it in and around the entry points of the termite nests. Do this religiously for a few days, and you will begin to see the termite population reduce.
Also read: How to Get Rid of Drain Flies?
4. Orange Oil
If you have gone pillar to post looking for a remedy to treat a termite infestation, then we assure you will not lose much in trying orange oil. This inexpensive oil can do wonders in terminating the prolific wood destroying pests. In yet another experiment conducted, it was found that orange oil extract could kill as much as 98% of the termite colony. The extract contained 92% d-limonene which is toxic to termites. Depending on the infestation, it can take anything between 3 days to 3 weeks to get rid of an infestation.
How to use it: Drill small holes in places that are infested with termites. Inject orange oil into the holes. Do this religiously for a few days until you notice a marked difference. You may also apply the oil to the surface of furniture that may be infested with termites.
Must read: How to Get Rid of Horse Flies?
5. Cayenne Pepper
Another natural cure for termites involves the use of cayenne pepper. Small, localized areas are best treated with cayenne pepper.
How to use it: Make a paste of light vegetable oil and cayenne pepper, and apply it to areas invaded by termites. Do this regularly, once a day. Alternatively, sprinkle cayenne pepper powder to the affected areas and repeat this for a few days until you find all the termites dead.
Also read: How to Get Rid of Fruit Flies?
6. Soap Water
Soapy water not only helps in fighting against bacteria and germs on our body, but also destroys colonies of termites and prevents further damage to your valuable furniture. The solution destroys the respiratory system of the termites as it forms an impermeable seal on the outer shells of the termites. Even the biggest of termite colonies will perish with regular use of soap water.
How to use it: Take four cups of water and blend two tablespoons of liquid dish soap in it. Pour this solution into a spray bottle and spray it in and around the termite-infected areas. Do this for a few times until you notice a visible decline in the number of termites.
Must read: Natural Remedies for Bed Bugs
7. Neem Oil
Neem oil is also a natural remedy for termites as it is a non-toxic and safe method that guarantees results. It prevents termites from eating away wooden objects and even stops them from laying eggs. Neem is a natural insecticide and prevents termites from molting, which thereby causes their death. However, take note that only when termites come in direct contact with the oil will it be able to show results.
How to use it: Apply neem oil on a cotton ball and rub it onto the infested areas. The termites will consume the oil and as a result will meet their death. You need to reapply this oil frequently in order for it to show visible results.
Also read: How To Get Rid Of Roaches?
8. Diatomaceous Earth
A fistful of Diatomaceous Earth is all that you need to permanently solve a number of pest infestations. This inexpensive remedy will put an end to drywood and subterranean termites from infesting and eating up the furniture in your house. This powder has the ability to abrade the outer shells of termites that causes them to dry up and die.
How to use it: Using this remedy is as simple as it can be. Just sprinkle a generous amount of the powder onto the infested area and let it do its trick.  However, ensure that you use a mask while handling this powder.
Must read: How To Get Rid Of Crickets?
Other Natural Remedies to Get Rid of Termites
You can wet pieces of cardboard and place them near the infected areas to attract termites. Once they fall for the trap, you can simply burn out the cardboard.
You can also use aloe vera gel to get rid of the termites as the gel is blessed with medicinal and antibacterial properties.
However, the most widely used method is exposing furniture or other items directly to sunlight. The UV rays of the sun help to kill the insects as they are not able to withstand the harsh solar rays.
Also read: How To Get Rid Of Fleas?
Always be alert for any crack in the walls and make sure to seal them with cement.  It is also prudent that you regularly check your household items for any signs of an insect attack. Keep moisture away from your home and be sure to mend leaking water pipes and other plumbing accessories as termites feed on this moisture accumulation. Do not hesitate to seek professional help, should the infestation begin to spread.
Now that you have a few quick tips to battle these pesky house-eating creatures, it's time to put it into practice before the termites get an upper hand!