Home remedies for wasp stings: Have you ever been stung by a bee or a wasp? Then you know the pain and discomfort you have to go through. Bee or wasp stings are more common during the warmer months which is also when people spend more time outdoors. Bees and wasps protect themselves with their stingers, which contain poisonous venom that causes various reactions in the body when stung. Different to bees, wasps can get a little more aggressive and sting for no reason. You will also notice that not everyone experiences the same symptoms when stung by a wasp – the symptoms can range from temporary pain and discomfort to dangerous and severe allergic reactions.
The good news is that there are a number of home remedies that you can use to treat wasp stings and relieve mild and moderate symptoms and reactions such as redness, pain, itching, and swelling. Here is a look at some of the best home remedies for wasp stings: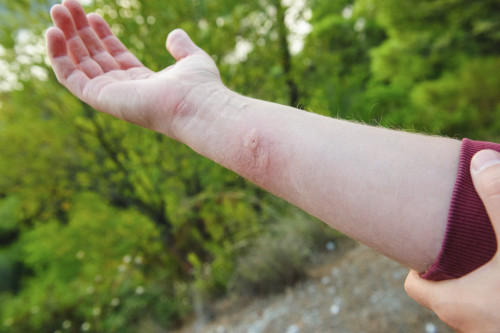 Home Remedies for Wasp Stings with Easy-to-Get-Hold-of Ingredients
1. Baking Soda
Being an alkaline product, baking soda helps in neutralizing the acidic venom from a wasp sting. This simple home remedy can relieve pain, itching, and swelling. What is so great about this remedy is that you always have baking soda readily available in your home, so you can immediately treat a wasp sting and get a quick relief.
How to Use:
Make a paste by mixing 1 teaspoon of baking soda with a small amount of water.
Apply the paste to the site of the sting for 5 to 10 minutes.
Next, wash the paste off with lukewarm water.
If you still experience pain or discomfort, apply the paste to the affected area again after a few hours.
Related: How to get rid of chiggers and treat chigger bite?
2. Apple Cider Vinegar
When it comes to treating various problems, apple cider vinegar is one of the best. It is a superb natural remedy for conditions such as acne, psoriasis, eczema and much more.  Apparently it also makes one of the best home remedies for wasp stings as it helps in neutralizing the acid present in the wasp venom. It is also extremely effective in easing the pain and reducing the swelling and itching that comes with a wasp sting.
How to Use:
Soak a cotton ball with raw, unfiltered ACV.
Hold the cotton ball over the affected area or welt for 5 to 10 minutes.
Repeat the process as often as you need to.
Note: If you do not have ACV, white vinegar will also work well.
Related: Home remedies for spider bite treatment 
3. Witch Hazel
One more in our list of home remedies for wasp stings is witch hazel. It has astringent and anti-inflammatory properties that help in relieving pain, itching, and swelling caused by a bee or wasp sting. You will find that having a bottle of witch hazel in your home can come in handy for treating a number of problems, including bee or wasp stings, minor cuts, and wounds, etc.
How to Use:
To treat a wasp sting with witch hazel, all you need to do is dab a small amount of the liquid on the affected area. Experts recommend using chilled witch hazel as it provides faster relief.
Allow the witch hazel to dry on its own.
Repeat the process as often as you need to.
Related: Home remedies to get rid of mosquito bites
4. Honey
Honey has many natural properties that make it a great to get rid of many conditions and bee or wasp stings are no exception. It effectively works to dilute the venom from the sting whereas its antibacterial properties help in reducing the risk of infection. Additionally, honey is extremely soothing, making it great for quickly alleviating the symptoms of a bee or wasp sting.
How to Use:
Smear a small amount of raw, pure honey on the affected area and let it dry.
When dry, rinse it off with warm water.
Repeat the process a few times a day.
Another effective natural remedy for wasp stings is a paste made with equal parts of raw honey and turmeric.
Apply it to the affected area as often as necessary every day for a few days.
Related: How to get rid of wasps with home remedies?
5. Aloe Vera
Known for its medicinal properties, aloe vera is also great to treat wasp stings. It has anti-inflammatory and soothing properties that help in easing itching, swelling and pain. If you have been stung by a bee or a wasp, quickly head to your potted aloe vera plant and cut off a leaf to get a quick, effective remedy.
How to Use:
After washing it, slit the aloe vera leaf open to extract the gel.
Apply the aloe vera gel to the affected area.
Reapply it a few times throughout the day for a couple of days.
Related: Natural ways to get rid of carpenter bees
6. Peppermint
Peppermint is an aromatic herb that has analgesic and anti-inflammatory properties, making it one of the most soothing home remedies for wasp stings. These properties help in reducing pain, inflammation, and swelling. Peppermint also disinfects the sting and helps in relieving the itchiness. If you have peppermint growing at home, then you have another quick, go-to remedy to treat the sting. Alternatively, you may use peppermint essential oil if you do not have the herb growing in your garden.
How to Use:
Crush fresh peppermint leaves to extract the juice and rub it on the affected area.
Allow it to dry on its own and then rinse off with cool water.
Repeat 1 or 2 times a day, or as needed.
You can directly apply a few drops of peppermint essential oil on the affected area several times daily.
If you have sensitive skin, dilute it with a carrier oil like coconut oil or olive oil and then apply to the affected area.
Note: You can use peppermint and lavender essential oils to repel bees, wasps, and other insects while you are spending time outdoors.
Related: Easy home remedies to get rid of piss ants
Wasp stings are no joke – they are painful and cause a lot of other problems like inflammation, swelling, etc.  Fortunately, there are home remedies for wasp stings like the ones mentioned above to help you get relief from the symptoms of a bee or wasp sting. However, keep in mind that if you experience severe allergic reactions, you should seek medical attention immediately so you can get appropriate treatment.