How to Treat Fire Ant Stings?: Have you ever been stung by a fire ant? If yes, then you know how painful it can be. Coming in clusters, the stings cause an intense burning or pinching sensation as well as itching, swelling, redness, pus-filled lesions and raised bumps – these symptoms may last a couple of hours or several days. Although those who are allergic the venom of fire ants will need to get immediate medical attention, others can use simple home remedies to treat fire ant stings. These simple remedies are all-natural and safe as well as extremely effective in relieving the symptoms of fire ant stings.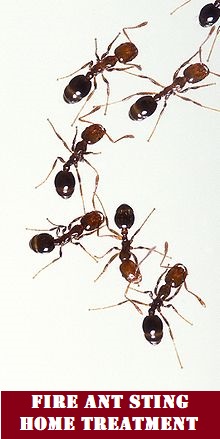 How to Treat Fire Ant Stings?; 10 Home Remedies to End Your Sting-ful Misery
Here is a look at the best natural remedies to treat fire ant stings:
1. Soapy Water
The first thing to do after a fire ant sting is to clean the affected area – do this before proceeding with any treatment. You need to clean away the ants' venom and any dirt to avoid an infection. Soapy water works well to remove the venom and any bacteria or other harmful substances after you have been stung by a fire ant.
Use a mild medicated soap and water to gently clean the bitten area.
Pat dry thoroughly with the soft towel.
Apply olive oil to moisturize the affected area.

F

ollow this by keeping the affected area elevated – this will help in minimizing swelling.
Related: 10 Natural Home Remedies for Spider Bite Treatment
2. Baking Soda
To reduce the redness and itching on the area affected by a fire ant sting, we will suggest you to go with baking soda. It works as a natural acid neutralizer that helps in minimizing the effects of the fire ants' venom. This in turn effectively reduces the itching sensation and lowers the risk of an infection.
Mix 1 teaspoon of baking soda with water to form a paste. You can also use vinegar instead of water.
Apply the paste generously all over the affected area and leave it on for about 10 minutes.
Rinse it off with lukewarm water.
Apply again after a few hours if the discomfort persists.
Related: How to Get Rid of Chiggers? How to Treat Chigger Bites?
3. Cold Compress
An intense itching sensation is one of the first symptoms caused by fire ant stings. A cold compress can help immensely in alleviating itching as it reduces the swelling and numbs the affected area.
Put a few ice cubes in a plastic bag and wrap it in a dish cloth. You can also use an ice pack or bag of frozen peas.
Apply the pack on the affected area for 5 minutes.
Stop for a few minutes and apply again.
Do this as often as you need during the first 24 hours.
Note: Do apply ice directly on your skin as it can cause frost bite.
Related: 17 Home Remedies and Tips to Get Rid of Piss Ants at Home
4. Oatmeal
As you may have already known, oatmeal is an effective home remedy for a number of skin conditions and ailments. Apparently it is great to treat fire ant stings too! It helps in relieving itching and inflammation effectively as it has anti-inflammatory, anti-irritating and soothing properties. Oatmeal can provide instant relief from the symptoms of a fire ant sting.
Fill your bathtub with lukewarm water and add 2 cups of colloidal oatmeal.
Stir it thoroughly and soak in the water for 30 minutes or more.
Depending on the severity of your symptoms, repeat the process 2 to 3 times a day.
Related: 5 Home Remedies to Get Rid of Ants Fast
5. Apple Cider Vinegar
You have probably noticed that apple cider vinegar is an excellent remedy for a range of, skin conditions, especially those that come with inflammation and sores or lesions. Needless to say, it works wonders for fire ant stings too. Its antibacterial, anti-inflammatory and antiviral properties make it an effective natural treatment for the sting.
Soak a cotton ball in raw, unfiltered apple cider vinegar and gently apply it to the affected area.
Allow it to dry naturally and then rinse off with cool water.
Apply some coconut or olive oil to keep the affected area moisturized.
You can also add 2 teaspoons of raw, unfiltered apple cider vinegar to 1 glass of warm water.
Drink this solution 2 times a day to treat the sting from within and speed up the healing process.
Repeat until you notice an improvement.
Note: Mix equal parts of apple cider vinegar and water before applying if you have sensitive skin.
Related: How to Get Rid of Fire Ants? Learn To Kill Fire Ants
6. Honey
Honey is another amazing natural method to treat fire ant stings. Not only does it soothe your skin, but it also reduces the swelling and itching that comes with stings. It even keeps your skin moisturized, which is important when you have lesions or bumps on your skin.
Apply organic honey on the affected area.
Leave it on for as long as possible.
Rinse off with water.

 

Repeat as often as you need to relieve the symptoms of fire ant stings.
Related: How to Get Rid of Sugar Ants? Natural Ways to Repel Sugar Ants
7. Witch Hazel
Witch hazel; another common household ingredient that you can use to treat fire ant stings. It is effective in relieving the irritation caused by the sting. Witch hazel is also a natural astringent which makes it geat for reducing swelling and itching.
Put a few drops of witch hazel on a cotton ball.
Apply it on the area with the stings and allow it to dry naturally or evaporate.
Repeat several times a day until you find relief from the symptoms.
Related: How to Get Rid of Carpenter Ants? How To Kill Carpenter Ants?
8. White Toothpaste
If you wish you get rid of fire ant stings fast, one of the most effective remedies is white toothpaste. With its cooling menthol, it helps in reducing the burning and itching sensations you experience after being stung. Remember that only white toothpaste works – avoid using gel toothpaste as it can burn your skin.
Take a small amount of white toothpaste on your finger.
Apply it on the affected area and leave it on for 10 minutes or so.
Rinse off with cool water.
Repeat as and when you need to.
Related: 7 Home Remedies for Yellow Jacket Stings Gathered from Your Kitchen
9. Cucumber
Another superb natural remedy for treating fire ant stings is cucumber. It instantly cools the affected area and relieves the irritation and pain. This is one of the simplest but effective home remedy for this problem.
Cut a few slices of cucumber.
Gently rub all over the affected area.
Leave it on and repeat whenever you need to.
Related: Home Remedies for Wasp Stings with Easy-to-Get-Hold-of Ingredients
10. Salt
Want another really simple home remedy  for fire ant bites? Salt works wonders! It helps in reducing the swelling and irritation caused by the sting. The best thing about this remedy is that you always have salt on hand in your kitchen so you can immediately treat stings.
Mix some salt in water.
Dip a cotton ball into the solution and rub it gently on the affected area.
Repeat the remedy as often as you need to get relief.
Related: 15 Best Ways To Get Rid Of Cockroaches – Rules & Remedies To Get Rid Of Roaches
Fire ants can cause a lot of damage and their sting can be extremely painful. With these simple home remedies, you can make sure that you treat fire ant stings quickly and effectively. The ingredients in these remedies are natural and safe so you do not have to worry about side effects.