How To Get Rid of Smelly Feet?: Just about everyone at some time in life or another have to deal with stinky feet. And, yes stinky feet can be a huge turnoff. The main culprit behind stinky feet is your footwear. No matter how expensive your pair of shoes may be, if they cannot ventilate your feet, they can exacerbate the problem of sweaty feet and cause your feet to stink.
Despite the fact that sweat is odorless on its own when it mixes with certain strains of bacteria, it emanates a foul odor. Thankfully, this is not a disease and can be easily remedied with ingredients in your very own pantry. Read on to know the causes, a handful of remedies and tips to prevent stinky feet.
The causes that lead to stinky feet are:
Lack of ventilation for your feet
Stress
Poor hygiene
Sweaty feet, moist or warm feet
Tight footwear
Drugs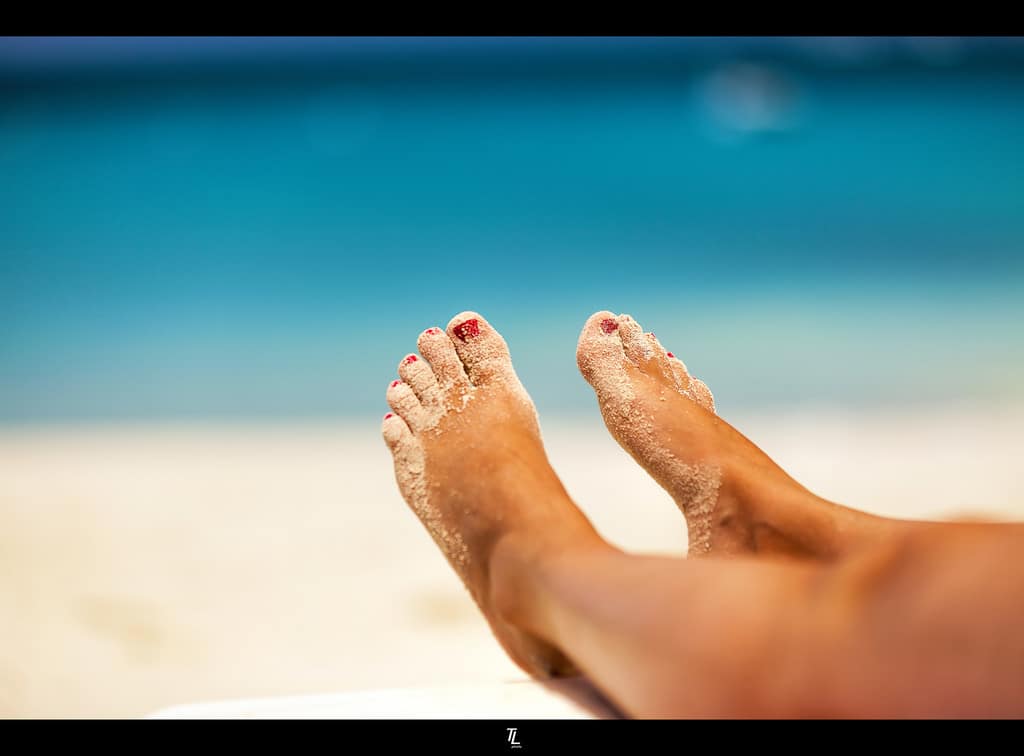 Home Remedies To Get Rid of Stinky Feet
1. Talcum Powder
Not only does talcum powder reduce sweat on your feet but also lends them a pleasant fragrance. Just rub some powder on your feet before you don your socks. Repeat this as and when you think your feet are going sweaty. You may also use baby powder to get rid of smelly feet.
2. Baking Soda
This commonly used kitchen ingredient can help neutralize the pH levels of your sweating body part naturally. It also helps reduce bacterial outbreak without any side effects. Inexpensive and highly effective, this is a remedy that can be used to get rid of stinky odor from your feet. Add a tablespoon of baking soda to a tub of warm water and soak your feet in this solution for about 20 minutes. Do this religiously every day. You may also sprinkle baking soda into your shoes and socks. It will combat the bacteria growing in them and prevent the occurrence stinky smell. Another easy hack is to heat about eight cups of water and add a quarter cup of baking soda to it. Squeeze the juice of a lemon into this solution and soak your feet in it. Pat your feet dry with a soft towel.
Or, simply rub a generous amount of baking soda onto your feet to get rid of shoe odor.
3. Black Teabags
If you are looking for a remedy that works like a charm, pull out your pack of tea bags. The tannin in black tea kills bacteria and inhibits its growth. It also helps close skin pores and thereby reduces sweating dramatically. Simply boil two bags of black tea in about 3 cups of water. To this solution, mix ½ a bucket of normal water to cool it down. Soak your feet in it for 20 minutes and repeat daily. You may also use green tea bags instead of black tea bags.
4. Vinegar
As you may already know, vinegar is acidic and helps kill bacteria. Add a whole cup of vinegar to about 8 cups of hot water and dip your feet in the tub. Sit back and relax for about 15 minutes and wash it off with soap.
5. Epsom Salt
This is an effective remedy to get rid of stinky feet. Epsom salt can fight microbial infections easily while detoxifying your skin and neutralizing foot odor. Add about two teaspoons of Epsom salt to a bucket of warm water. You know the rest! Yes, dip your feet in the tub for 15 minutes and repeat regularly. Try and do this before you hit the sack, so you do not have to don shoes or socks after the treatment.
6. Pumice Stone
Did you know that you can use the good ole' pumice stone to exfoliate and remove dead cells from the skin of your feet and this can help prevent a bacterial outbreak in your feet and thus reduce odor emanating from them.
7. Kitty Litter
Now, this is a remedy you may have never considered and may not wish to. But, trust us when we say kitty litter is deodorized with rather pleasant fragrances. All you need to do is fill up a pair of socks with the litter and place it in your shoes. Leave this overnight and dump the litter in the morning.
8. Rubbing Alcohol
It is one of the best remedies you can find for stinky feet. It not only removes the foul smell in your shoes but also kills the bacteria present in them. What's more? It can also remove dirt and grime from your shoes. Now, how cool is that. What do you need to do? Simply fill a spray bottle with plain water and some rubbing alcohol and spritz it inside your shoes. If you do this every day, your shoes will remain squeaky clean, and growth of bacteria will be curtailed.
You may also wash your shoes thoroughly with this mixture if they are washable, of course!
9. Alum
This is yet another remedy that works wonders in removing foul odor from your feet and shoes. It has antiseptic and astringent properties that shoo away odor in no time at all. Mix a teaspoon of alum powder to a cup of warm water and use the solution to rinse your feet. Follow this up by sprinkling some alum powder on your feet once a day.
10. Ginger
This remedy helps inhibit bacterial growth as well as helps remove toxins from your feet. Puree a medium sized ginger root and add it to a cup of really hot water for 15 minutes. Strain this into another cup and massage it into your feet before going to sleep.
11. Borax
This is one of the best remedies you can use to remove foul odor from your feet. Add about half cup of vinegar and half cup of borax powder into 2-3 cups of water and sprinkle the solution generously inside your feet.
You may also just sprinkle plan borax powder inside your shoes and let it sit for a few hours and wait for the foul odor to disappear.
12. Sugar Scrub
The best way to treat stinky feet, is to remove calluses and dead skin that can cause bacterial outbreaks. To a mug of clean water add some sugar and 91% isopropyl alcohol. Remember, that the amount of sugar must be more than that of water and only one part of alcohol must be used for every five parts of water. Use this paste as a solution to scrub your feet for at least 10 minutes in gentle circular motions. It will help remove dead skin and ward off bacteria. Wash your feet with cold and clean water and repeat this exercise thrice a week.
13. Cornstarch
This is a remedy that helps soak in perspiration and thus reduces bacterial outbreaks. Rub some cornstarch powder on your feet before you wear a pair of socks to eliminate foot odor. You may also sprinkle some inside your shoes.
14. Apple Cider Vinegar (ACV)
There is no one thing that ACV cannot cure. You can trust ACV to deal with stinky feet too. Mix about half a cup of ACV in 8 cups of warm water. Soak your feet in the solution for a few minutes before you wash them with warm water.
15. Lemon Teabags
If you are looking for a remedy that does not reek like vinegar, try lemon. This tiny fruit acts as a cleanser cum odor remover. Soak three bags of tea in some warm water and deep both your feet in it for 15 minutes. Wash and moisturize your feet before wearing a pair of socks and crashing for the night. It will do away with the foul odor naturally.
16. Radish
If you are looking for a natural disinfectant, look no further. Radish not only can disinfect your feet but also effectively reduce foot odor. It has nutrients such as phosphorus, zinc, Vit B and C that are said to hinder bacterial activity. What do you need to do? Grind six medium sized radishes and extract the juice. Add warm water to the juice. Now, pour in this mixture, into a large basin, and dip your feet in it for 20 minutes and pat dry with a soft towel. Do this every day to reduce stinky odor from your feet.
You may also add ¼ tsp of glycerin to the juice of a dozen radishes. Pour this mixture into a spray bottle and use it as and when you feel your feet are emanating odor.
17. Cloves
You can place cloves inside your shoes to get rid of foot odor. It is a sure shot remedy that is bound to work. You may also pour in a few drops of clove oil inside your shoes to remove the stinky odor.
18. Oatmeal
This is an exfoliating agent that works wonders on stinky feet. Add two teaspoons of oatmeal to a large mug of warm water and scrub your feet with it for about 15 minutes before you wash it off with some plain lukewarm water and pat dry with a soft towel. Be sure to do this 4-5 times a week to remove dead skin cells and curb bacterial growth.
19. Common Salt and Water Soak
If you have feet that sweat excessively, this is a remedy you must try. Salt water helps prevent excessive sweating and also removes dead skin cells that are food to bacteria. By doing so, it reduces foot odor dramatically. Add a cup of salt to a tub of warm water and soak your feet in the tub for 15 minutes or so. Pat dry and moisturize.
20. Vodka
Vodka helps kill bacteria effectively and is odorless once it has dried up. You may either apply a few drops of vodka directly to the insides of your shoes or dilute it with water and spray some into them.
21. Kosher Salt
This salt helps dry your skin and reduces excessive sweating and moisture that can cause a foul odor. Add a half cup of kosher salt to a liter of warm water and dip your feet in it for some time. Instead of rinsing your feet, pat dry to maximize the effect of the salt.
22. Essential Oils
You may also try out a few herbal remedies that help get rid of stinky feet. Use your choice of essential oils to layer your shoes and leave it overnight to do away with the smell coming from shoes. You can also make a relaxing foot soak using essential oils and lukewarm water. Soak your feet daily to keep them smelling clean and fragrant.
23. Coconut Oil
This favorite oil in most households can destroy the bacteria growing on the feet. It contains lauric acid that has antiseptic properties. Add five drops of cedar wood oil to 2 tablespoons of coconut oil and apply this to your feet. Massage the mixture gently into your skin and let it air dry. Do this every day to keep your feet fresh and fragrant.
24. Rotate your shoes
Something as simple as rotating your shoes can help air them and keep them fresh and smelling good. Do not wear the same shoes for more than two days in a row. Change your shoes and allow them to dry out completely before you wear them again.
These simple home remedies go a long way in treating stinky feet and keeping them fresh, clean and beautiful. Try them today.
In this article