Home remedies for rashes: Rashes are slightly unbiased in terms of the people they affect, age group they target, or areas they surface and just about everyone at some point in time has had to deal with rashes. They can be treated in the comfort of your home with simple home remedies. But before we get to that, let's do a little background check on these pesky little occurrences.
Skin rashes commonly surface from time to time and are characterized by red, dry, itchy skin. They appear in small bumps that might alter the texture of your skin and sometimes even the color of it. The thing about rashes is that they can occur at any point in time, targeting just about any part of your body. Hence, it is hard to predict when and how they occur, unless they are caused by specific food allergies.
Causes of skin rashes
The most common causes of skin rashes include eczema, psoriasis, acne, contact with poisonous plants, allergies, mites, clothing, insect bites, excessive sweating and so on. In some cases, however, soaps, detergents, cosmetics, and shampoos may also take credit for the occurrence of rashes on your body.
Ideally, rashes are a symptom of fungal or bacterial infections, but in rare cases, they are a sign of a viral infection. Rashes can be usually left unattended, post which, they would disappear by themselves. However, if they do not show signs of improvement within a few days, then this raises a concern.
Regardless, here are some home remedies for rashes that are bound to come in handy: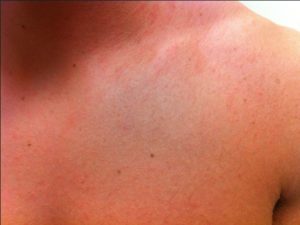 Home Remedies for Rashes; 6 All-Natural Methods to Get Rid of Rashes
1. Oatmeal
There's more to oatmeal than it being the quickest breakfast option when time works against you! Oatmeal can be quite the weapon to combat skin rashes due to its ability to alleviate skin irritation and inflammation. For rashes caused by poison ivy, sunburn, chickenpox, and allergies, this makes a great home remedy as it soothes the surface of your skin with the anti-inflammatory properties it possesses.
You can leverage oatmeal in any of the following ways:
Remedy 1:
Grind oatmeal in a blender and add this to a warm tub of water.

Soak in this for about fifteen minutes or so.

Repeat this process until the rash is gone completely.
Remedy II:
Combine half a cup of oatmeal in a quarter cup of milk powder.

To this, add two teaspoons of honey.

Pour this mixture into a muslin cloth, sealing the opening with a rubber band, thread or string.

Place this in a bathtub filled with warm water and soak in this for about fifteen minutes.

Repeat this process till the rashes subside.
Also read: How to get rid of heat rash?
2. Aloe Vera
Aloe vera is one of the best home remedies for rashes, particularly the one associated with heat because of its anti-inflammatory and antibacterial properties. To add more to that impressive introduction, aloe vera is also known for its emollient and antibacterial properties. For any ailment pertaining to your skin, consult the age-old skin doctor, aloe vera.  Apart from soothing the irritation that surfaces with rashes, it also heals your skin.
For this remedy:
Extract the gel from a fresh aloe leaf.

Apply this onto the affected areas.

Leave this on for about twenty minutes before rinsing off.

Repeat this process three times a day until the rash clears out.
Must check: How to get rid of diaper rash?
3. Apple Cider Vinegar
One more of the list of excellent home remedies for rashes is apple cider vinegar which does wonders in soothing rashes and the itching. The percentage of acetic acid present in it fights skin infections which could be the root cause of rashes. Keep in mind that apple cider vinegar could cause skin irritation if you have a sensitive skin. It's best that you dilute the ACV with water before using it.
For this remedy:
Dip a cotton ball in apple cider vinegar and apply it to the affected areas.

Leave this on for a few minutes before washing it off.

Repeat this process several times a day until your rash is nowhere in sight.
Also read: How to get rid of poison ivy rash?
4. Chamomile Tea
For more severe and prominent rashes, use chamomile tea as a means to rinse your body with. This process reduces skin inflammation, keeping itchiness under control. Dry or irritated skin becomes supple and clean after a dose of chamomile tea.
For this remedy:
Boil a cup of water and steep a teaspoon of chamomile flowers in it.

Cool this concoction and apply this on your rashes with the aid of a cotton ball.

If you have rashes on your hands, soak your hands in this for ten minutes before rinsing off.
If all this seems too big of a task for you, then you can resort to the application of chamomile essential oil onto the rashes.
Must check: Home remedies to get rid of chigger bite
5. Baking Soda
Rashes that are associated with pus can be treated with baking soda as it helps to dry out the rashes. Also, the itching and inflammation associated with these rashes subside with regular follow up of the remedy stated below:
To three parts of water, add one part of baking soda.

Apply this onto the affected areas and leave it on for about five minutes.

Repeat this process daily for a few days.
Another remedy entails the following:
Mix baking soda with coconut oil so as to make a paste of it.

Apply this on the affected areas and leave it on for five minutes or so.

Rinse off soon after, and continue this remedy twice or thrice a day for best results.
Caution: Keep in mind that baking soda can lead to further skin irritation if you leave it on for too long. So ensure that you don't keep it on for more than five minutes.
Also read: How to get rid of mosquito bites?
6. Coconut Oil
Coconut oil makes for an excellent natural moisturizer for your skin as well as your scalp. Compared to the other home remedies for rashes, this one is fairly simple, so you might want to try it out when time constraints you. Apply coconut oil to the affected areas and leave it on for some time. Rinse off soon after. Follow this remedy until the itching subsides.
Must check: Home remedies for psoriasis
The next time that rashes get the better of you, look to these home remedies to give you the relief you seek. Don't hesitate to try these home remedies for rashes out! But keep in mind that if the rashes persist, a trip to the doctor mandates.