Home remedies for sleep apnea: Sleep apnea is a common sleep disorder wherein breathing is interrupted or sometimes stopped involuntarily while sleeping. Typically, it lasts for about ten seconds and can occur repeatedly at night.
Sleep apnea is caused by blocked, narrowed airways in the nose, throat or mouth. It mainly occurs when your brain is unable to transmit signals to the muscles that help you breathe. This condition affects just about anyone, including the likes of children and adults. Studies have shown, however, that the condition is more likely to affect males than females.
Of the many factors that favor sleep apnea, are- obesity, a narrow throat, heart disease, family history, regular intake of alcohol, being older than the age of sixty, smoking and nasal congestion as well. Before proceeding to the home remedies for sleep apnea, here is a look at its symptoms.
Symptoms of sleep apnea
Excessive sleepiness during the day

Loud snoring

Poor quality of sleep

Waking up gasping for breath

Dry mouth

Headaches upon waking

Insomnia

Attention deficiency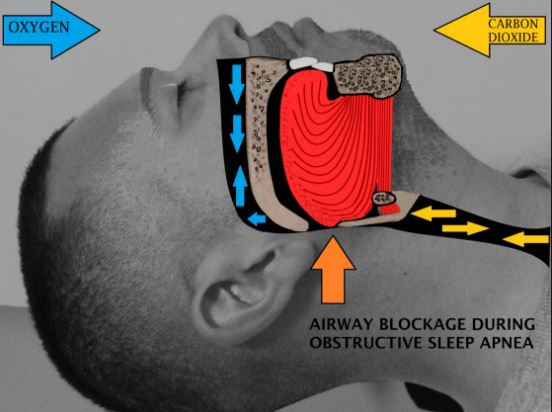 If left untreated, this condition can result in high blood pressure, heart disease, stroke, depression, and diabetes so ensure that you get treated right away.
Effective Home Remedies for Sleep Apnea
1. Honey
Honey makes a great remedy due to the anti-inflammatory properties that it possesses. It reduces the swelling  around the throat which obstructs airways. In addition to that, it lubricates the throat thereby preventing snoring which is the most common symptom of sleep apnea.
Honey also aids in promoting sleep and relaxation, maintaining a healthy body weight and preventing obesity. If you want to rid yourself of sleep apnea, then losing weight is prime.
Leverage honey in the following manner:
To a glass of warm water, add a tablespoon of raw honey and drink this before going to bed.

You could also mix in a teaspoon of honey and black pepper powder in a glass of warm water. Sip this slowly before going to bed.

In order to lose weight, drink a glass of warm water with a tablespoon of honey and the juice of half a lemon. Consume this on an empty stomach daily in the morning.
Related: 8 home remedies for snoring to help you snooze better
2. Peppermint
This is one of the most common home remedies for sleep apnea. Peppermint reduces airway blockages as it is anti-inflammatory and soothing in nature. It promotes easy breathing, working well to eliminate the menace that is snoring.
Use peppermint in the following ways to gain relief from sleep apnea:
Remedy I
Add a few drops of peppermint oil to a glass of water.

Gargle with this solution right before going to bed each day.
Remedy II
Another option for you is to drink a few cups of peppermint tea each day.

To make the tea, add a tablespoon of crushed peppermint leaves to a cup of hot water. Cover this and allow it to steep for about ten minutes.

Strain this solution and add honey to it.

Make sure that you drink this while it is still warm.
Related: Serious sleep deprivation effects and tips to sleep better
3. Cinnamon
Cinnamon has sedative properties which help you sleep better, treating breathing problems associated with sleep apnea in the process. If you are on some medications, it is best you consult your doctor before partaking in a remedy entailing cinnamon.
In order to use cinnamon follow these home remedies:
Remedy I
To a cup of hot water, add a tablespoon of grated ginger.

Add a medium size cinnamon stick to this and boil the water.

After a few minutes, strain and add some honey.

Drink this once before going to bed.
Remedy II
Mix in two teaspoons of cinnamon powder in a cup of warm water.

Drink this solution once every day.
Remedy III
Make a paste of cinnamon powder, and water.

Apply this to your chest and forehand.

Leave this on for a few minutes before rinsing off with water.

Use this as and when you need to open up blocked passages.
Related: Quiz on what does your sleeping habits say about you?
4. Chamomile
Yet another from the list of home remedies for sleep apnea is chamomile. This is a herb that contains chemical compounds which can relax muscles and nerves. It promotes sleepiness and sedation in the process. The anti-inflammatory properties come with the added bonus of getting rid of blocked airways which result in snoring.
In order to use chamomile, follow these remedies:
Remedy I
To a cup of hot water, add two teaspoons of dried chamomile.

Cover this and allow it to steep for about five minutes.

Strain this and add some honey with a pinch of cinnamon powder.

Drink this tea one hour before going to bed.
Remedy II
Prepare an oil from one part chamomile oil with two parts of olive oil.

Massage your neck with this oil a few times every day.
Related: 10 home remedies to cure insomnia
5. Garlic
Anti-inflammatory in nature, garlic is great to get rid of sleep apnea as it clears up blocked air passages. This makes breathing at night a lot easier, reducing snoring in the process. Also, if you suffer from enlarged tonsils, garlic should be your go-to remedy.
For this remedy:
Remedy I
Consume two or three cloves of garlic on an empty stomach

Follow this up with a glass of water.

Repeat this process until the inflammation and symptoms subside.
Remedy II
You can also include garlic in your meals or take garlic supplements once you consult your doctor for the dosage.
Related: How to last longer in bed naturally?
6. Cardamom
Cardamom is an excellent expectorant as well as decongestant which works just as well as over the counter drugs. It is one of those tried and tested home remedies for sleep apnea that opens up blocked nasal passages. Free nasal passages equals lesser snoring which equals to a cure for sleep apnea.
For this remedy:
To a glass of lukewarm water, add one and a half teaspoons of cardamom powder.

Drink this daily, roughly half an hour before you hit the sack.
These home remedies for sleep apnea are bound to come in handy at times when the condition is at its peak. Snoring may not exactly be something that bothers you, but it sure does your partner! We're placing bets on these home remedies to benefit you as well as your partner. So here's to sound sleeping for all those around you!