Home Remedies for Vertigo – So what makes people suffer from vertigo? Although it is claimed that vertigo can be caused by issues like not getting enough sleep or a tumor in the brain, the primary cause of it is an inner ear infection or benign paroxysmal positional vertigo (BPPV). Keep in mind that if you experience symptoms like double vision, headaches, weakness in the arm or leg or slurred speech, you may be suffering from a more serious case. However, barring any serious neurological issues, and if your vertigo lasts longer than that pesky flu, then it is high time you tried relieving your vertigo naturally with some remedies.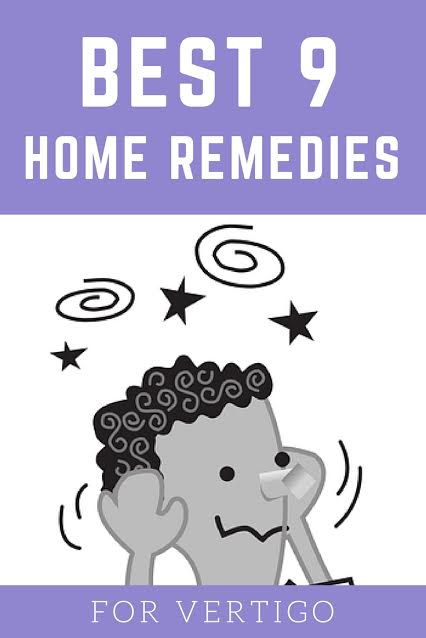 9 Home Remedies for Vertigo Treatment
How can vertigo be cured? There are several home remedies that are known to be quite effective in treating vertigo. Here is a look at some of the best ones for you to try out.
1. Ginger Tea
Commonly used for nausea, ginger is also known to be beneficial in fighting vertigo. According to a U.S. Library of Medicine-published research, ginger root has an effect that helps improve vertigo. Researchers found that it could reduce induced vertigo significantly better than a placebo. Steep ginger root in 1 cup of boiling water for 5 minutes or so. You can add in some raw honey if you like. Drink this tea two times a day to fight vertigo.
Also read: How To Get Rid of a Headache?
2. Milk and Almonds
Almonds are packed with vitamins B and E, which apparently makes it highly effective to treat vertigo. To prepare the remedy, soak four almonds overnight in filtered water. In the morning, grind them up to make a fine paste and then add it to a glass of warm milk. Drink this mixture every day and it will help you get rid of vertigo naturally in no time.
Must read: How To Get Rid of Diarrhea?
3. Lemongrass
For ages, lemongrass has been used as a home remedy for nausea, dizziness and vomiting. It's been discovered recently that this fragrant herb can be used to improve vertigo too. An herbal tea made with a small amount of lemongrass can help curb the different symptoms of vertigo. Drink this tea every time you feel an onset of these symptoms and you will feel better in a matter of minutes, leaving you feeling energetic and refreshed.
Also read: 12 Natural Laxatives For Constipation
4. Gingko Biloba
The Chinese has been using gingko biloba since ancient times to treat a wide range of illnesses and conditions, including vertigo. If you want to know how to get rid of vertigo fast, then this is the remedy for you. This herb helps in boosting blood circulation in the inner ear as well as the brain, thereby making it beneficial for treating symptoms of this problem, especially headaches and double vision. Make an herbal tea with gingko biloba and drink it every day to cure your vertigo.
Must read: 10 Easy DIY Homemade Pregnancy Tests
5. Essential Oils
You can also use essential oils for vertigo treatment. Massage your head with the oil and you will feel your vertigo being soothed away. If you feel weak due to the problem, get a full body massage with an essential oil that promotes relaxation. Soak your hands in cold water before starting the massage – this will help in enhancing blood circulation, making you feel relaxed. To get relief from stress and anxiety while eliminating symptoms of vertigo, go for essential oils.
Also read: 12 Amazing Benefits and Uses Of Lavender Essential Oil
6. Cayenne Pepper
This spice contains an active agent known as capsaicin, which can help in boosting the blood flow in your brain. To use cayenne for vertigo, all you have to do is boil a cup of water with cayenne pepper and drink it every time you start to feel lightheaded. Apart from treating the symptoms of vertigo such as weakness or fatigue, it will also help increase the alertness of your brain.
Must read: How To Stop Drinking Alcohol?
7. Almonds and Watermelon Seeds
These, combined with poppy seeds, wheat grain, cloves and milk, make a great vertigo home remedy that works like magic. Firstly, soak 8 watermelon seeds, 8 almonds, 1 tablespoon of poppy seeds and 2 tablespoons of wheat germ overnight. The next morning, mix them to make a thick paste. Then, heat a pan with 1 tablespoon of clarified butter or ghee. Fry 2 cloves and then add the almond paste you made. Next, add the contents of the pan into a glass of milk and drink the mixture every day for a week.
Also read: How to Get Rid of a Urinary Tract Infection?
8. Gooseberry Powder, Coriander Seeds and Honey
Gooseberry is rich in Vitamin C, which enhances the absorption of food, nourishes the brain and improves mental functioning. Coriander seeds on the other hand contain a variety of phytonutrients and are also known to be a good source of minerals like iron, copper, calcium, magnesium and manganese. When mixed with some raw honey, they can help alleviate the symptoms of vertigo. Soak 1 tablespoon each of gooseberry powder and coriander seeds in water overnight. Next morning, strain into a cup and add a small amount of honey. You are sure to gain an instant relief when you drink this whenever you experience vertigo.
Must read: 9 Best Home Remedies For Migraines
9. Apple Cider Vinegar and Honey
You may have already heard or read about apple cider vinegar and all its benefits. It is claimed that ACV helps with vertigo as well. You may use unpasteurized, unfiltered apple cider vinegar for vertigo by mixing it with raw honey. Both are known to have curative properties that can effectively help in easing blood flow to the brain. Add 2 parts honey to 1 part apple cider vinegar and drink 1 tablespoon of the mixture 2 to 3 times a day to prevent and treat vertigo.
Also read: 50 Health and Beauty Benefits Of Honey
If you often experience vertigo, nothing is better than using home remedies. They are natural and safe, and in most cases, you are likely to find what you need to prepare the remedy right in your kitchen. To get rid of vertigo and its uncomfortable symptoms, use the home remedies mentioned above!