How to Get Rid of Intestinal Worms in Dogs?: If you have a dog as a pet, we do not have to tell you how much it hurts when it is sick! Have you ever thought about what is to be done if your dog gets intestinal worms? Remember that most dogs will eventually get it at some point. Symptoms include white worms in the stool, diarrhea, vomiting, mild to severe coughing, increased appetite without weight gain, dull coat, anemia, weight loss, scratching at the base of their tail and scooting their behind on the grass or carpet. The good news is you can treat your canine companion's intestinal worms with simple yet effective home remedies. These natural treatments will ensure that your pet is as good as new in no time at all.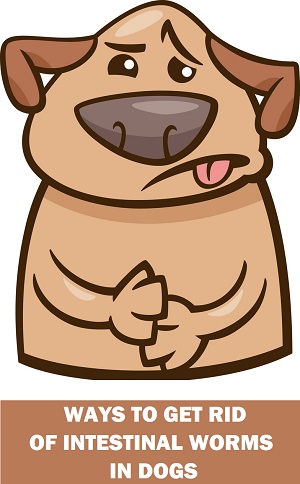 Home Remedies for Intestinal Worms in Dogs
Here is a look at some of the best natural treatments to get rid of intestinal worms in dogs:
1. Apple Cider Vinegar
Apple cider vinegar is one of the best natural canine de-wormers as it fights worms and prevents them from returning. It has antibacterial, antifungal and antiviral properties that make it effective against parasites like intestinal worms.
Add 1/4 to 1 teaspoon of apple cider vinegar to your dog's drinking water and food daily. This will help in keeping your pet's system alkaline.
Do this until you see an improvement.
Related: 10 Natural and Safe Home Remedies for Bladder Infections in Dogs
2. Pumpkin Seeds
There is a deworming compound called cucurbitacin in pumpkin seeds. It is an amino acid that effectively expels roundworms and tapeworms from dogs' intestines. This compound paralyzes the parasites and prevents them from attaching to the intestinal walls during bowel movements. Pumpkin seeds not only get rid of intestinal worms in dogs, but also provide other health benefits to your pooch.
Grind pumpkin seeds and add the powder to your pet's food.
Do this 2 times a day.
Add 1/4 teaspoon of the powder for every 10 pounds of your pet's weight.
Continue with this remedy until you no longer see worms in your doggy's poop.
Related: 5 Tried and Tested Home Remedies for Parvo in Dogs
3. Wormwood
Wormwood is an herb that works wonders in to get rid of intestinal worms in dogs. It can eliminate tapeworms, roundworms and threadworms when the correct dosage is used. The herb also has antiparasitic properties that destroy intestinal worms and aids in digestion.
Add 1/4 teaspoon of wormwood to your pet's food. If your dog is a smaller breed, reduce the dosage to half of this.
Note: Do not use this remedy 3 days in a row as it can damage the nervous system of dogs. Pregnant or lactating dogs as well as dogs with kidney or liver disease or seizures should also not be given this herb.
Related: How to Remove Your Dog's Tear Stains with Natural Home Remedies?
4. Papaya
Papain, an enzyme found in papaya, is helpful in getting rid of intestinal parasites from your dog's system. With anti-amoebic and anthelmintic properties, papaya seeds can also effectively kill any harmful bacteria that is present in your pooch's digestive system.
Give your pet 2 tablespoons of powdered papaya seeds per 20 pounds of your dog's weight.
Follow this remedy for 7 consecutive days.
Feed your pooch some ripe papaya in bite-sized chunks – most dogs love the taste of this fruit.
Related: 7 Home Remedies to Prevent or Stop Your Dog from Licking Its Paws
5. Carrots
You should include carrots in the food you feed your pet, especially during the deworming period. This nutrient-rich vegetable helps in removing parasites as it can scrub worms off from the digestive system. It also boosts your pet's immune system.
Include carrots in your canine companion's diet on a regular basis.
Give your pet 1/2 to 2 tablespoons of grated carrots as per its size.
Related: 7 Safe & Natural Home Remedies You Can Try to Get Rid of Kennel Cough
6. Garlic
Garlic is another powerful natural remedy to get rid of intestinal worms in dogs. Raw garlic has amino acids that contain sulfur and are antiparasitic in nature. Garlic detoxifies your doggy's body and supports the good bacteria in your pet's digestive tract while flushing out harmful bacteria. It also has powerful antibiotic and antimicrobial properties that makes it effective in fighting parasites and protozoan organisms. However, keep in mind that you should use this remedy moderately.
All you have to do is grate the appropriate amount of garlic and mix it with fennel before you feed your pet. Feed your dog garlic to eliminate intestinal parasites based on its weight:
1/2 clove – 10 to 15 pounds
1 clove – 20 to 50 pounds
2 cloves – 45 to 70 pounds
2 ½ cloves – 75 to 90 pounds
3 cloves – 100+ pounds
Note: Do not give your dog garlic for more than 1 week or it could cause harm.
Related: 5 Natural & Safe Home Remedies for Blood in Dog Stool
7. Parsley Water
Parsley is known to be an effective ingredient for natural deworming, making it the best remedy to get rid of intestinal worms in dogs. Parsley water is also great in flushing out toxins that accumulate in your pet's digestive system. It is even packed with nutrients that boost your pooch's immune system. Above all, it is so easy to prepare!
Add water and parsley in a pan and bring to a boil.
Allow it to simmer for 3 minutes.
Remove the pan from the heat and allow it to cool.
Strain the water and store it in the refrigerator.
Give your pet 1 tablespoon of parsley water once daily for 10 days.
Related: 5 Home Remedies for Mange to Comfort Your Furry Buddy
8. Cloves
Cloves have powerful antibacterial and antiparasitic properties, making them effective in killing different types of intestinal parasites. They also help in increasing white blood cell count, which in turn boosts your pet pooch's immune system.
Small dogs: Mix 1/4 of a crushed dry clove in food once a day for 1 week.
Medium-sized dogs: Mix 1/2 of a crushed dry clove in food once a day for 1 week.
Large dogs: Mix 1 crushed dry clove in food once a day for 1 week.
After a 1 week break, follow this remedy again for another week for best results.
Note: Pregnant dogs should not be given any form of cloves as they are a uterine stimulant.
Related: 100% Natural & Safe Home Remedies for Dog Ear Infection
9. Turmeric
Turmeric has anti-inflammatory and antioxidant properties that help in reducing inflammation and damage to your dog's intestine caused by an infestation of worms. It also heals that affected area. Turmeric even helps the liver in flushing out toxins that intestinal parasites left behind in your pet's body.
Add turmeric powder to your dog's food for 10 to 15 days.
Use roughly 1/8 to 1/4 teaspoon per 10 pounds of your furry friend's body weight. Start with a low dosage and gradually increase it.
Note: Do not give turmeric to pregnant dogs as it may stimulate the uterus.
Related: How To Get Rid Of Fleas & Ticks Naturally? [Infographic+Text]
10. Black Walnut
When it comes to eliminating intestinal parasites in dogs, black walnut is another herb that works incredibly well. Keep in mind that you should use only the green hulls of this herb for treating this problem.
Give your pooch regular strength black walnut tincture for no more than 2 weeks at a time. For every 10 pounds of your dog's body weight, use 1 drop of the tincture.
Or, give your pet 1/4 of a 500 mg capsule for dogs weighing from 5 to 25 pounds and 1/2 capsules for dogs weighing 25 pounds and over. Continue to do this for 2 weeks.
Note: If the wrong dosage is administered, black walnut has the potential to be toxic, so you have to be extra cautious when using this remedy.
Related: How to Treat Cystitis in Cats with 10 Easy Home Remedies?
Your dog can go through pain and discomfort when it has an infestation of intestinal parasites. But as you can see, there are many home remedies that you can follow to treat and get rid of intestinal worms in dogs. If your canine companion does not get better after 2 weeks or so, you should visit your vet.