How to Get Rid of Underarm Rash?: No one likes developing underarm rashes; it is a real nuisance! Underarm rashes rear its ugly head due to sweat, lack of proper hygiene and bacterial infections, amidst many other reasons. The most common symptoms of underarm rashes are redness, bumps, constant itching and even bad odor. It is best not to leave them untreated, as this can further lead to blistering of the skin, along with increased pain and even fevers! Lucky for you, there are many home remedies that have proven effective to get rid of underarm rash; so you needn't worry about rushing to the doctor for every little rash.
…What kind of remedies can you try?
Well, the truth is that most of the solution lies in your very own kitchen! Enlisted below are 10 methods which can be used to say goodbye to itchy armpits.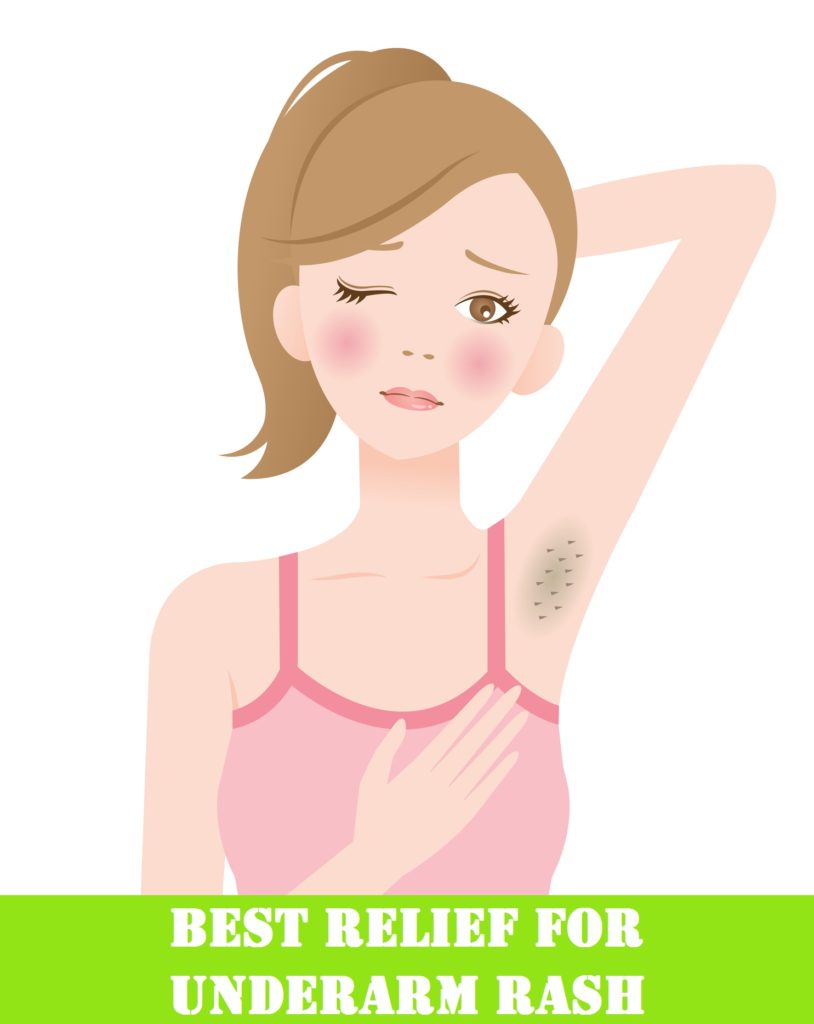 10 Foolproof Home Remedies to Get Rid of Underarm Rash
1) Aloe Vera
The most effective of all! My grandmother used to smear aloe vera on my skin every weekend until I was 15, and I learned to love it, though I still hate the smell. But I have her to thank, for my smooth skin to this very day. The properties of aloe vera are soothing, which help reduce the pain and redness, along with irritation.
Smear the gel from aloe vera on the rash
Leave it be for a good couple of minutes, after which it can be rinsed off with cold water.
Pat dry and continue this process for a couple of times throughout the day. You should find the rash decrease, and the pain go away!
Tip: Add a pinch of turmeric powder along with the gel to really feel the difference. Again, courtesy grandma!
Related: Home Remedies for Rashes; 6 All-Natural Methods to Get Rid of Rashes
2) Coconut Oil
You'd be surprised at how well this works; it contains Vitamin E and other healthy fats that help soothe the burning and itching effect, whilst speeding up the healing process. Additionally, it reduces friction that only worsens the pain and infection.
Use a cotton ball to dip in a few tablespoons of coconut oil.
Dab this cotton ball on your armpit rash, and let it remain for a good 15 minutes.
Now, you may rinse it with cold water and pat it dry.
Do this twice or thrice a day, until you start seeing a significant reduction. This should help clear the rash altogether.
Tip: Add a teaspoon of lavender oil!
Related: How To Get Rid Of Heat Rash? 7 Easy Home Remedies for Prickly Heat
3) Lemon
It has unbeatable antibacterial properties that help kill bacteria and drive away the odour. By killing all the bacteria present, you will be able to get rid of underarm rash with no trouble.
Slice open a lemon and massage it gently on the rash. Let the juice dry on your armpits.
Rinse with cold water after some time and pat it dry. Repeat this a few times a week.
Tip: Best not to use this if you shave your armpits.
Related: Do's / Dont's For Diaper Rash – 6 Home Remedies For Diaper Rash Treatment
4) Vitamin E
Apart from helping you to get rid of underarm rash, Vitamin E contains many beneficial properties to keep your skin healthy, as it promotes cell generation and reduces itching. Always going to thank my mother for those almonds every morning!
Use some vitamin E oil on the armpit area and gently massage for a good couple of minutes.
Leave it to dry out, and then repeat the process. You needn't rinse it off, as it is good for your skin. Do this twice a day until you find the itching sensation flee.
Related: 6 Home Remedies for Dyshidrotic Eczema to Keep It Under Control
5) Tea Tree Oil
Again, one of the many old remedies, which was passed on to me by my great-grandmother. It is the most effective of all, especially when the armpit rash is caused by ringworm or eczema. The antiseptic properties of this oil help soothe the soreness and say goodbye to irritation, whilst cutting out the growth of fungi or bacteria.
Mix 1 tablespoon of olive oil with 5 drops of tea tree oil and apply to the rash.
Leave it for 10 minutes, followed by rinsing it off with cold water. Pat dry.
Repeat this process twice or thrice every day, until it starts to look (and feel) better.
Related: Molluscum Contagiosum Home Remedy That You Should Try
6) Oatmeal
Oatmeal is great to get rid of underarm rash as it has specific soothing effects that drive out the irritation. It also balances pH levels and keeps the skin moisturized.
Add a cup of oatmeal, along with a few drops of lavender oil in your tub.
Let yourself soak in this solution for a good 20 minutes, after which you may bath in normal water.
Pat dry and repeat this procedure every day until the rash becomes clear.
Related: Follow These Soothing Home Remedies for Itchy Skin for a Fast Relief
7) Neem or Lilac
Most Ayurvedic remedies know of Neem; it is the most effective of all. It contains antifungal, antibacterial and anti-irritant properties. My grandmother used to recite tales of how they would pluck leaves off their neem tree to treat wounds or scraped knees. Does it work on armpit rashes? It sure does! Try it for yourself.
You may use neem leaves, or neem oil. If you use leaves, then simmer the leaves in water for a good 20 minutes before dipping cotton balls in it.

Apply it on the affected area and let it dry out. Repeat this process a couple of times a day and see the results.

 
Related: How to Get Rid of Poison Ivy – 11 Home Remedies for Poison Ivy Rash
8) Baking Soda
Having properties to dry out rashes and prevent their development into horrific blisters, baking soda also helps balance out the pH levels of the body.
Mix baking soda with water and apply it on the infected area.
Leave it be for a good couple of minutes before rinsing it off. Pat it dry and repeat this process regularly to see the difference.
Tip: It may also be used as a deodorant, and helps prevent rashes.
Related: How to Get Rid of Chiggers? How to Treat Chigger Bites?
9) Shea Butter
Shea butter contains properties similar to neem, and helps moisturize the body overall. It is also proven to cure psoriasis and eczema effectively.
Related: How To Get Rid of Razor Burns? – How to Treat Razor Burn Fast at Home?
10) Chamomile
This contains soothing properties that help reduce the pain from swelling and excessive irritation. You can find chamomile topping the list of many skin remedies, hence it is of no surprise that it can get rid of underarm rash too.
Dilute a few of chamomile oil drops with any other carrier oil.
Apply the mixture on the infected area, and let it dry out completely. Repeat this process on a daily basis to see the results.
Tip: You may also apply wet chamomile tea bags on the rashes for about 10 minutes. That's all it takes!
Related: Home Remedies To Get Rid Of Mosquito Bites | Natural Mosquito Repellents
These are a few tried and tested remedies that help get rid of underarm rashes. They work like a charm and before you know it, your armpit rashes will be a tale of the past.