How to remove permanent marker stains?: Do you immediately panic when you see a surface with permanent marker doodles, drawings, scrawls, etc.? Your first thought is probably to find out ways to remove it without damaging the surface or leaving telltale stains. Now, no one is a stranger to cleaning after a permanent marker stain, especially when there are little kids at home. Well, the good news is that there are quite a few quick and easy ways to remove permanent marker stains, whether it is on clothes or any other surface.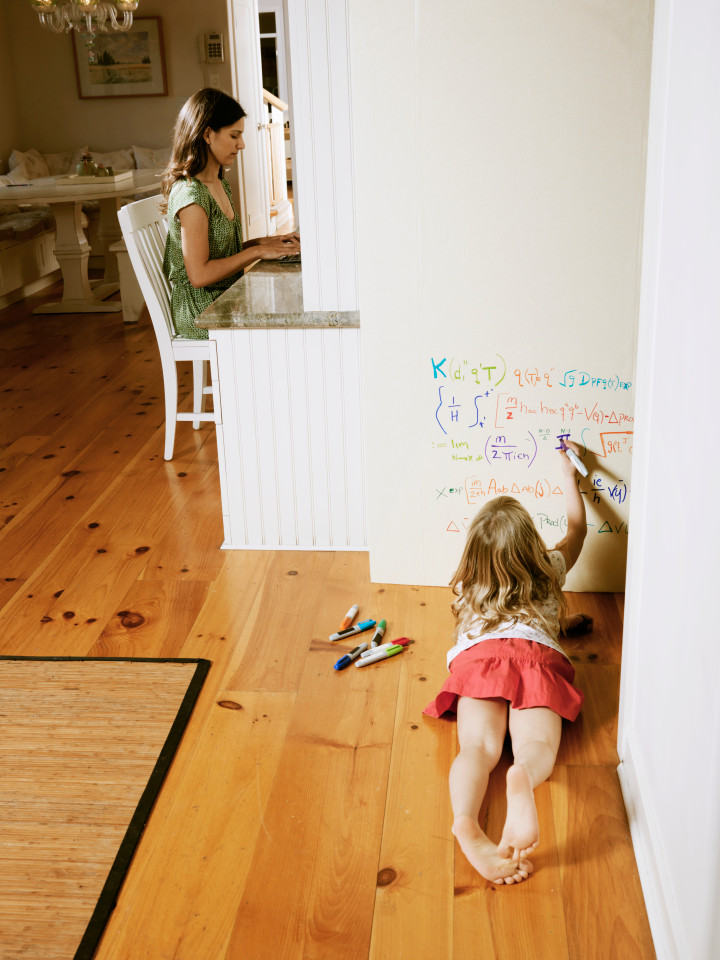 DIY Hacks and Tips to Remove Permanent Marker Stains
Here is a look at effective tips to help you get rid of permanent marker from different types of surfaces:
1. Fabric and Upholstery
When it comes to removing permanent marker from fabric or upholstery, there are a number of products you can use. You can try regular, not gel, toothpaste, rubbing alcohol, distilled white vinegar, aerosol hairspray, hand sanitizer, lemon juice and cream of tartar, WD-40 or nail polish remover.
How to Use:
Dampen a towel with the product you prefer or have on hand and dab it onto the stain instead of rubbing it. When you dab at the stain, you avoid working the stain further into the fibers.
Place a few paper towels or an old towel between the stain and the other side of the item so that the ink is absorbed and the stain does not transfer to any other parts of the item.
Note: For delicate fabrics like silk and satin, it is best to go to a dry cleaner and make sure that you show the exact location of the permanent marker stain.
Related: DIY hacks to get rid of static cling from your clothes
2. Leather Clothing and Furniture
Did you think that the only thing you can do is throw away your leather jacket after it is attacked by a permanent marker? You do not! You can remove permanent marker from leather clothing and upholstery with a few common items, like sunscreen, distilled white vinegar or aerosol hairspray. However, you should remember to treat permanent marker stains on this type of surface as quickly as possible.
How to Use:
First, take the product you prefer and spray or dab it onto the stain.
Next, simply blot with a clean towel or a few paper towels to remove the stain.
Related: DIY carpet cleaning ideas at home
3. Wood Floors or Furniture
Has your wooden floor been turned into a messy canvas with permanent marker? You might think that it is impossible to clean the marker stains from these surfaces, but you are wrong. Rubbing alcohol, regular toothpaste and peanut butter (strange but true) can help you get rid of permanent marker from wood floors and furniture.
How to Use:
Pick a product and blot it onto the permanent marker stain.
Allow the product to sit for a few minutes.
Repeat the process until the stain disappears.
Note: Keep in mind that you should first test the peanut butter, toothpaste or rubbing alcohol in an inconspicuous spot to make sure that the varnish or stain on your wood is not removed.
Related: How to get rid of skunk smell from clothes, pets and home?
4. Walls
Every child loves drawing on walls – it is always a favorite surface for drawing. Sometimes they may get their hands on a permanent marker and decide to create a work of art on your living room wall! What do you do then? Well, regular toothpaste, aerosol hairspray, rubbing alcohol, lemon essential oil or a Magic Eraser can help you remove permanent marker drawings or stains.
How to Use:
Rub the affected area on your wall with the product of your choice.
Remember to rub the surface gently to avoid removing the paint or causing damage.
Note: Be careful when you rub walls. If you rub it too hard, you can end up removing paint from the wall, especially if you have chosen to use a Magic Eraser.
Related: 15 household items that you did not know had expiry dates
5. Carpets and Rugs
If you have permanent marker stains on your carpet or rug, one of the most effective solutions for it is rubbing alcohol. You can also use aerosol hairspray, distilled white vinegar or believe it or not, shaving cream. These work very well in removing permanent marker from carpets and rugs and if you do the job right, you will have a spotless carpet in no time!
How to Use:
Choose the product you want to use to remove the stain with and dab it onto the stain. Do not rub it in as this can further stain the carpet fibers.
Next, take a clean, damp piece of cloth and blot the stain so that the stain remover gets lifted out of the carpet. You can also lift the stain remover with your iron!
Related:  10 easy DIY homemade pregnancy tests
6. Glass
Do your windows have stains from a permanent marker? Or has your little one decided to give your glass dishes or cups a makeover with the pen? Do not worry as as long as you can get hold of  these items; rubbing alcohol, nail polish remover, WD-40, dry erase marker and regular toothpaste mixed with baking soda.
How to Use:
Take the cleaning product of your choice and wipe it on the stained area or item with a paper towel.
Repeat the process until the stain is completely removed.
Related: 5 DIY hacks to get rid of pesticide from fruits and vegetables 
7. Screens
Screens are delicate and need to be treated with extra care when you need to remove permanent marker. You can use baby wipes to get rid of any marks or stains made with the pen from your screens. If the wipes do not work, you can try toothpaste – again, use regular toothpaste, not gel.
How to Use:
If you are using baby wipes, all you have to do is wipe the stained area. Remember to wipe your screen gently and repeat the process until the stains are gone.
If you are using toothpaste, dab some onto the stain and allow it to sit for a couple of minutes.
Take a clean soft cloth and gently wipe the toothpaste off.
Repeat until you have removed the stain completely.
Related: DIY homemade foot scrub and soaks
Removing permanent marker may seem like a tough task. But when you have the right products, it is pretty quick and simple to do the job. As you can see, you can remove permanent marker from different surfaces with products you already have at home. So the next time you see a drawing or stain, do not panic – just step into your kitchen or bathroom to get the product you need and remove it.