Benefits of oregano essential oil: You have probably heard a lot about other more commonly known essential oils like chamomile, lemongrass, lavender and the like, but maybe not much about oregano. In that case, it is high time you learnt more about it as it has some wonderful benefits for your skin, health, and hair! What makes this essential oil so awesome are its antibacterial, antifungal, antiviral, anti-inflammatory, antioxidant, antiparasitic, anti-allergenic, emmenagogue and eve digestive properties. If you are looking for a unique essential oil that provides multiple benefits, then oregano essential oil is definitely for you! You can also make your very own homemade oregano essential oil! Read on to find out the benefits of oregano essential oil!
9 Amazing Benefits of Oregano Essential Oil for Health, Skin & Hair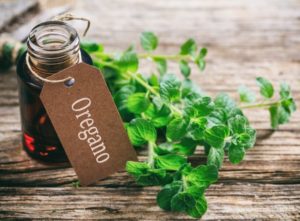 Skin Benefits of Oregano Essential Oil
Here is a look at some of the best ways oregano essential oil benefits your skin:
1. Treats skin conditions
Due to its natural antibacterial, antifungal, and antiparasitic properties, oregano essential oil is an excellent natural remedy for a number of skin conditions. The essential oil's carvacrol compound, in particular, makes it effective for treating minor skin issues including rashes, cold sores, acne and fungal infections. If you have acne issues, you can apply it directly to the lesions or mix 2 or 3 drops in a glass of water and use a cotton ball to dab it on the acne. This will help the manifestation of the herpes virus and also speed up the healing process.
Must read: Health benefits of tea tree oil
2. Slows down the signs of aging
If you are one of the millions of women across the world, you have probably gone through dozens of anti-aging products that promise to remove fine lines, wrinkles, dark spots and other signs of aging. Have they worked? Most probably not. Oregano essential oil may be the solution you are looking for as it is known to remove signs of aging and delay the aging process. This magical essential oil will give you bright, youthful skin with regular use.
Also check: Benefits of emu oil
3. Treats skin infections
Thanks to its its antibacterial properties, oregano essential oil can help in destroying candida as well as other unknown harmful germs and bacteria that cause skin infections. All you need to do is mix a few drops of the essential oil with a carrier oil and massage it gently on the affected area. Oregano essential oil capsules are also available to fight these skin infections.
Must read: Use coconut oil as a beauty product
Hair Benefits of Oregano Essential Oil
Oregano essential oil has numerous benefits for hair including the following:
4. Gets rid of dandruff
Have you tried anti-dandruff products without any success in curing it? It is time to turn to something more natural – oregano essential oil. If left unchecked, your problem can get worse. The best solution is to mix a few drops of the essential oil to a tablespoon of shampoo and wash your hair. Your dandruff problem will disappear in just one week! You can also try mixing 1 ounce of oregano essential oil with 4 ounces of coconut oil. Apply this mixture on your scalp after you have washed and conditioned your hair. You will be amazed to see the benefits of oregano essential oil for your dandruff.
Also check: Benefits of jojoba oil
5. Boosts hair growth
If you have thinning hair or a hair fall problem, you should consider using oregano essential oil. Mix the essential oil with jojoba, olive or tea tree oil and apply the mixture on your scalp once a week or every 2 weeks. This will help in stimulating hair growth and give you the strong, thick hair you desire. You can say goodbye to hair loss and other hair issues with the magic that oregano essential oil naturally does.
Must read: Benefits of almond oil for skin, hair and health
6. Treats scalp inflammation
If you suffer from scabies, dermatitis or scalp inflammation, oregano essential oil is the most effective natural remedy. Forget about chemical-filled products that do not work half the time. Let the anti-inflammatory properties of this essential oil do the work and treat these conditions. Apart from these problems, oregano essential oil also helps in getting rid of issues like ringworm and head lice.
Also check: Benefits and uses of lavender essential oil
Health Benefits of Oregano Essential Oil
Here is a look at a few of the many health benefits of oregano essential oil:
7. Treats respiratory conditions
One of the unknown benefits of oregano essential oil is that it acts as an expectorant, helping to eliminate or loosen up the buildups of phlegm and mucus in the sinuses and respiratory tracts. It also soothes inflamed throat and lungs, which often result in coughing fits. If you suffer from symptoms of respiratory problems regularly, you should definitely use oregano essential oil as a natural treatment.
Must read: Health benefits of olive oil
8. Prevents and fights infections
This essential oil also protects you against viral as well as bacterial infections. It gives you an extra level of protection against bacterial diseases, like infections in the urinary tract and colon as well as cholera, typhoid, and food poisoning. Additionally, oregano's antibacterial effects do not have an inhibitory effect on health, which means that you do not have to suffer from the adverse impacts of being undefended.
Also check: Eucalyptus oil uses and benefits
9. Strengthens immunity
As mentioned, oregano essential oil protects against viral infections. What this means is that it helps in boosting your immunity against cold, pox, measles, mumps and other health issues caused by viruses. When your immune system is strengthened, it helps in defending your body against life-threatening viral infections as well as autoimmune disorders. Oregano essential oil boosts the production and function of white blood cells, the main line of defense of your body.
Also check: Include coconut oil in your beauty regime to save money
As you can see, the benefits of oregano essential oil are of wide array. Apart from the benefits mentioned above, this wonderful essential oil also helps protect against certain cancers, nervous disorders, loss of vision and hearing, degeneration of muscles due to aging, macular degeneration and a number of ailments. Last but not least, oregano essential oil also regulates menstruation and delays the onset of menopause. It is a superb natural remedy for women who suffer from obstructed menstruation and from symptoms of oncoming menopause, such as hormonal shifts and mood balance.
If you want a natural remedy to protect you against different ailments and conditions and the signs of aging like wrinkles, etc. and keep your hair strong, shiny and healthy, then oregano essential oil is a must have in your household!