Bacterial vaginosis is a common vaginal infection that occurs when the bacteria in the vagina are imbalanced. When the good bacteria are outnumbered by the bad bacteria in the vagina, it leads to the bacterial infection, bacterial vaginosis. This infection is primarily characterized by excessive white vaginal discharge, which commonly affects women of childbearing age. The good news is that this infection can be treated naturally with a number of effective home remedies for bacterial vaginosis.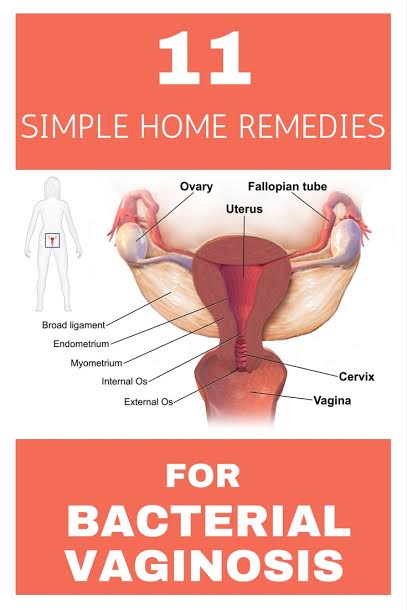 Home Remedies to Get Rid of Bacterial Vaginosis Naturally
Here are some of the best and easiest home remedies to help with the treatment of bacterial vaginosis:
1. Apple Cider Vinegar
Everyone knows that apple cider vinegar, or ACV, is one of the most versatile home remedies that can be used for a wide range of conditions, from acne to psoriasis and even digestive problems. You can use ACV to treat bacterial vaginosis too. All you need to do is pour 1 cup of ACV in a tub of water and soak yourself in the mixture for 15 to 20 minutes. It effectively kills the harmful bacteria and gets rid of the infection.
Also read: Complete Details About Polycystic Ovary Syndrome(PCOS)
2. Yogurt
As bacterial vaginosis is caused by bacterial imbalance, it is important to balance the pH of the vagina. One way to do it is to use yogurt, which which is loaded with natural bacteria. Just dip a tampon in plain yogurt and insert it like you usually do. You will get rid of the bacterial infection in no time at all. Also, eat plain yogurt at least twice every day.
Must read: DIY Homemade Pregnancy Tests for Women in Doubt
3. Garlic
This is an herb containing powerful medicinal properties that has been used for the treatment of various health problems for decades. Garlic is packed with natural antibiotic properties,making it one of the best home remedies for bacterial infection, especially in women. To cure bacterial vaginosis, place a clove in your vagina for a few hours, then remove it and wash your vagina. Eating raw garlic every day will also help in treating the infection.
Also read: How to Get Rid of Vaginal Odor?
4. Tea Tree Oil
Another great herbal remedy for treating bacterial vaginosis at home is tea tree oil. It is a natural anti-bacterial that can effectively reduce bacterial infection in any parts of the body, including vagina. All you have to do is mix a few drops of tea tree oil in lukewarm water and use the solution to rinse your vagina. Do this every day and you will quickly eliminate the infection for good.
Must read: How to Increase Breast Size Naturally?
5. Fenugreek
Fenugreek helps maintain hormonal balance and regulate menstrual cycles. If you suffer from this infection, you should make sure that you have fenugreek at home at all times. Add 1 teaspoon of fenugreek seeds to a cup of water and leave it to soak overnight. Drain the next morning and drink the water on an empty stomach. The hormonal balance in your body will be restored, helping to eliminate bacteria and eventually, the infection too.
Also read: 11 Easy Home Remedies For Yeast Infection
6. Turmeric and Milk 
We all know that milk and turmeric are both well known for their wondrous benefits. When combined, the mixture does magic in treating bacterial vaginosis. Just mix in 1 teaspoon of turmeric powder to a glass of lukewarm milk and drink it every day until the symptoms of the infection subside completely.
Must read: Cervical Cancer Symptoms, Causes and Treatments
7. Calendula
This herb has anti-inflammatory properties thus making it effective in the treatment of bacterial vaginosis. Calendula can provide relief from inflammation and itchiness that accompanies bacterial infection. Boil some calendula in water to make a tea. Soak a soft, clean cloth in the tea and gently rub into your vagina. Use the leftover tea to rinse the affected area while it is still warm. Repeat this remedy twice daily for quick and effective results.
Also read: 8 Home Remedies For Menstrual Cramps
8. Margosa Leaves
When it comes to natural cures for bacterial infection, nothing does it best like margosa does. Take a handful of margosa leaves and crush it with some water to make a paste. Once the paste is done, apply it on your vagina and leave it on for a while. To gain relief from the symptoms of bacterial vaginosis, repeat the remedy at least two times a day.
Must read: Breast Cancer Symptoms, Stages and Treatments Available
9. Coconut Oil
With its natural antibacterial, antifungal and antiviral properties, coconut oil is another superb home remedy for bacterial vaginosis. Not only does it kill the associated bacteria, but it also prevents it from recurring all in a go. Apply coconut oil on the affected area thrice a day until you notice an improvement. You can also soak a tampon in coconut oil and leave it for a few hours after inserting it in. However, be sure to always rinse thoroughly with lukewarm water after removing the tampon. Repeat this remedy once a day for several days or until your condition improves.
Also read: How to do Breast Self-Exam? – Step by Step Guide
10. Hydrogen Peroxide
Effective as a natural disinfectant, hydrogen peroxide is one of the best home remedies for bacterial vaginosis and other types of infection. It helps in eliminating the bad bacteria, inflammatory agents and itchiness that result from this infection. All you have to do is mix equal amounts of 3% hydrogen peroxide and water. Use the solution as a douche or soak a tampon in it. Be cautious to leave the tampon in for NOT longer than 30 minutes.
Must read: How To Get Rid of Heartburn During Pregnancy?
11. Oregano Oil
Thanks to its antibacterial and antifungal properties, oregano oil can be used to fight the bacteria and infections. Mix 3 drops of alcohol-free oregano oil with 1 tablespoon of olive oil and apply it to the affected area. Leave it on for 2 hours. Do this once a day until you see improvement. You can also mix 3 drops of oregano oil in a glass of lukewarm water and drink the mixture once every day. Continue with the treatment for 1 to 2 months to eliminate the infection.
Also read: How to Get Rid of Genital Warts?
Bacterial vaginosis is uncomfortable as it comes with itchiness, inflammation and a burning sensation when you urinate. Of course, you can use chemical-filled ointments and drugs to treat the infection but it is always a wiser choice to use natural home remedies as you will never have to worry about harmful side effects. If you happen to be one of the victims of bacterial vaginosis, do give these remedies a try. Seek immediate medical assistance if you don't see any improvement after a week of trial.