How to Get Rid of Back Acne?: Do you suffer from "back acne"? Yes, that irritating acne problem on your back! In most cases, if you have acne on your face, you are prone to having it on your back too. Apart from being painful and irritating, they also leave acne scars, making you self conscious with what you wear because you probably would want to avoid anything that reveals your back. The good news is that you can get rid of back acne with many natural remedies. These treatments are safe and inexpensive, because they are usually ingredients you already have at home!
Here is a look at some of the best ways to naturally get rid of back acne.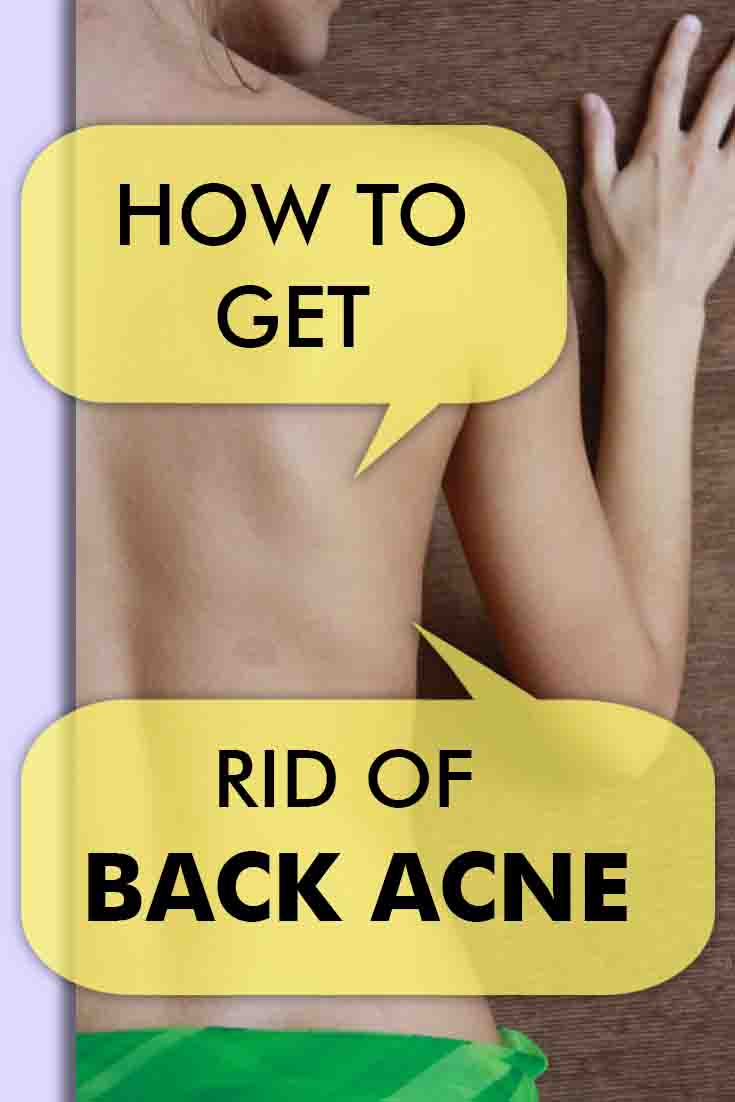 Home Remedies To Get Rid of Back Acne / Bacne
1. Lemon
Lemon is rich in a natural astringent called L-ascorbic acid, making it highly effective in treating back acne. L-ascorbic acid helps in unclogging pores and removing dead skin cells. Additionally, lemon has antibacterial properties that fight and eliminate acne-causing bacteria.
Cut a slice of lemon and rub on the affected area in a circular motion.
Leave it on for 10 minutes and rinse off with cool water.
Do this once to twice every day.
You can also use a mixture of equal parts of lemon juice and rose water.
Soak a cotton ball with the mixture and apply on the affected area.
Leave it on for 20 to 25 minutes and then rinse off with cool water.
Repeat this twice a day.
Note: If you have highly sensitive skin, you should avoid applying lemon juice topically. Try diluting it with rose water, and if you still get reactions, then discontinue the remedy.
Also read: 12 Natural Remedies To Get Rid Of Body Acne
2. Sea Salt
Sea salt is really a great way to get rid of back acne. Although there is very little research on why sea salt is so effective for acne and pimples, it is believed to be related to its ability to contain bacterial development. Also, it dries out the skin to some extent, helping in eliminating excess oil that causes acne on your back.
Fill your bath tub with warm water and add 2 to 3 cups of sea salt.
Soak in the water for 20 to 30 minutes.
If you have oily skin, do not apply any product when you get out of the bathtub – simply pat your skin dry.
If you have dry skin, then you may apply a little bit of light moisturizer.
In the case of severe back acne and breakouts, use this remedy twice a day. Otherwise, doing this once everyday should do the trick. You will notice positive results in a week or so.
You can also fill a spray bottle with sea salt water and spray the solution on your back once to twice  day.
Note: Keep in mind that table salt should not be used for this remedy as it contains iodine which may make your back acne worse.
Must read: 10 Home Remedies For Acne On Face
3. Oatmeal and Honey
This is an awesome remedy for those who always have oatmeal in their kitchen. Oatmeal is effective in cleansing off excess oil and dirt from the skin, whereas honey contains anti-inflammatory and antibacterial properties that cure acne breakouts and reduce swelling and redness.
Mix 3 tablespoons of oatmeal, 2 to 3 tablespoons of honey and enough water to cook the oatmeal.
Cook the oatmeal with water as you usually would and then add honey to it once it is cooked.
Allow it cool. Once it is cooled, the mixture may turn slightly dry. You may add a small amount of honey to it again.
Apply the oatmeal-honey mask onto your back.
Leave it on for 10 to 15 minutes and wash off with cool water.
Also read: How To Get Rid Of Acne Scars Naturally?
4. Oatmeal Bath
Whether you have dry, oily, aging or sensitive skin, oatmeal is an ingredient that will work wonders on your skin. Acne-prone skin can benefit from it as it efficiently soaks up excess sebum oil from the skin. Oatmeal is also a gentle exfoliator that removes dead skin cells and dirt and also opens up the pores. When dead skin cells and oil are removed, your skin gets rejuvenated and moisturized. An oatmeal bath will not only help you get rid of back acne but also eliminate the scars they leave on skin.
Take 3 cups of finely-ground plain oatmeal. This is because the oatmeal tends to settle in the bottom of the tub if it's not fine enough.
Fill your bathtub with warm water, and add in the oatmeal. Mix it well.
You can also put some oatmeal in a muslin cloth or sock and tie it. For this method, all you have to do is to place the cloth containing oatmeal into the tub, making sure that it is immersed. While you are soaking in your bathtub, keep squeezing the cloth so the after liquid of oatmeal mixes well with water.
Soak in the bath for 20 to 30 minutes.
Repeat every day to get soft, moisturized skin that is free of acne.
Note: Remember that you should use only plain oatmeal, not the flavored ones.
Must read: Home Remedies for Cystic Pimples Treatment
5. Mint Leaves
Peppermint leaves are rich in menthol, which is a fantastic natural anti-inflammatory and analgesic agent. These properties will not only help in alleviating pain and swelling that comes with acne but will also soothe your itchy skin because of its natural cool composition.
Take a handful of mint leaves and crush with a mortar and pestle until you have a smooth paste.
Rub the paste all over the area affected by acne.
Leave on for 10 to 15 minutes and then rinse off with water.
Repeat 2 to 3 times a day.
Also read: How to Get Rid of Freckles?
As you can see, there are some fantastic ways to get rid of back acne, no matter how severe it is. These remedies are natural and safe and do not cost you much. In fact, it is highly likely that you have most of these ingredients in your home. So fret not and start using one of these remedies to get rid of your acne!
In this article