How to Get Rid of Cold Sores Fast?: What is that on your face? A cold sore? If it is, chances are that you are really mad and desperate to get rid of it! Well, you will be glad to know there are some pretty great ways to get rid of cold sores. Cold sores are not only cosmetically unappealing but downright painful as well. While it is best to prevent a cold sore from developing at the earliest, there are times when nothing can you do to prevent it from getting worse. Here is some good news though – you can get rid of cold sores with natural remedies right at your home.
Here is a look at some of the best natural remedies to help you get rid of these unsightly sores.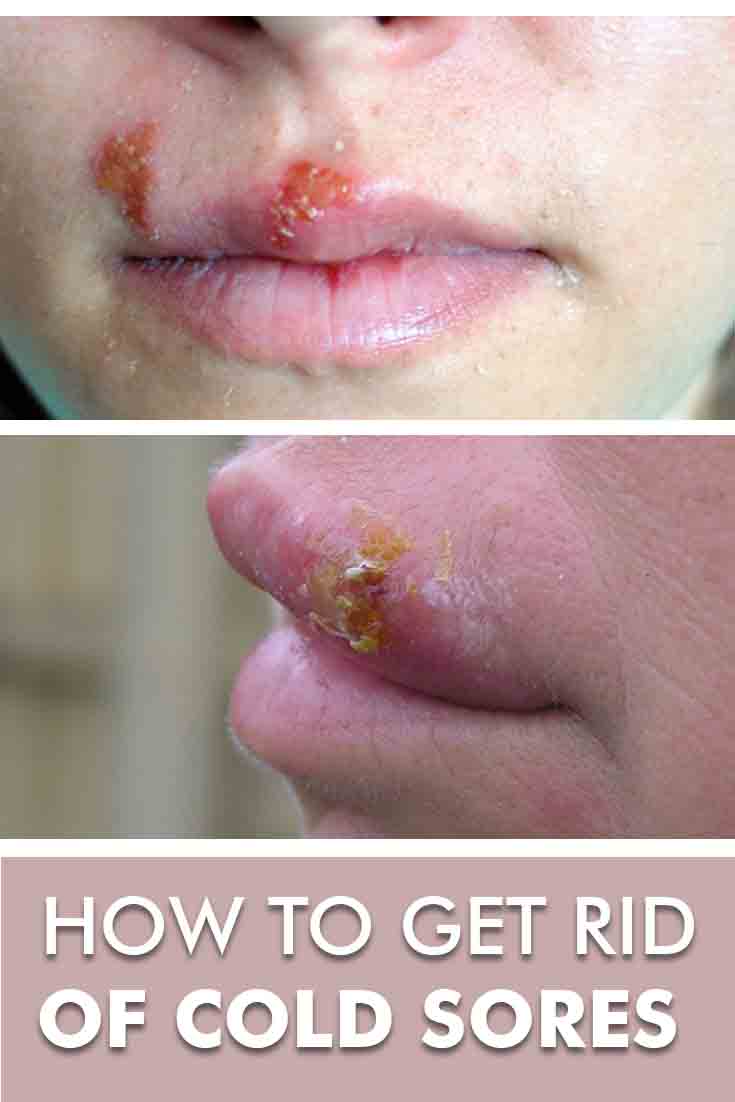 Top 8 Home Remedies to Get Rid of Cold Sores Fast
1. Coconut Oil
Did you know that coconut oil has more than just moisturizing properties? It is actually an excellent antimicrobial agent too. It contains triglycerides, such as oleic and lauric acid, that kill the cold sore-causing herpes simplex virus which in turn quickly eliminates the sore.
When you feel a cold sore coming on, apply coconut oil on the area with a cotton swab.
Leave it on.
Repeat every hour until you get rid of the cold sore.
Also read: How to Get Rid of Canker Sores Fast?
2. Tea Tree Oil
Tea tree oil is a fantastic essential oil that effectively treats a number of skin problems, including cold sores. It has powerful antiviral properties that can kill the virus causing the sore and also hasten the healing process.
Dab a small amount of tea tree oil on a cotton swab and apply on the cold sore.
Repeat this throughout the day and before you go to bed.
The oil will dry up the sore and make it disappear.
Must read: 10 Quick Home Remedies For Sore Throat
3. Apple Cider Vinegar
Who has not heard of the wonderful things that ACV can do? Apple cider vinegar is a powerful antimicrobial agent that works wonders on skin issues. It kills the bacteria and virus that causes cold sores and provides a quick relief as well.
Similar to the remedies mentioned above, all you have to do is apply ACV on the sore with a cotton swab.
Repeat this 2 or 3 times a day until the cold sore goes away.
Simple and effective, nothing works like

ACV for cold sores

.
Also read: How to Get Rid of Chapped Lips?
4. Milk
This remedy is unfortunately not for those who are lactose intolerant as it involves consuming milk too. Whole milk contains a protein called immune gamma globulin, which acts as an antibody to produce an immune response against the cold sore-causing virus. It also contains L-lysine, an essential amino acid that is extremely important for inhibiting arginine amino acid actions, speeding up the healing process and preventing cold sore outbreak in the future.
Soak a cotton ball in 2 teaspoons of milk.
Apply it to the cold sore and leave it on for a few hours.
Next, wipe off with a clean, soft towel.
You can also prevent cold sores from developing by increasing the level of L-lysine in your body by drinking milk every day.
Must read: How to Get Your Voice Back Fast?
5. Hydrogen Peroxide
Do you always keep a bottle of hydrogen peroxide at home? If you do, then congratulations, you just unlocked one of the fasted remedies to eliminate that nasty sore on your lip. Hydrogen peroxide is an effective disinfectant that fights different causes of fever sores. According to studies, the effects of the herpes virus are facilitated largely by a warm, moist environment. Hydrogen peroxide helps in keeping the infected area free of moisture, clean and dry, thus creating a non-conducive environment where the virus cannot thrive.
Dip a small cotton ball into 3% hydrogen peroxide and apply on the cold sore.
Leave it on for a few minutes and then dry off with a soft, clean cloth.
Repeat 3 times daily for 3 days and you will notice your cold sore clearing away.
Also read: How To Get Rid Of Heat Rash?
6. Vanilla
Do you love the sweet scent of vanilla? Now you have one extra reason to smell like vanilla, and get rid of cold sores, of course. Pure vanilla extract has medicinal properties that make it one of the best natural remedies for cold sores. It also has a high alcohol level that disinfects the affected area when you apply it, making it difficult for the herpes virus to thrive.
As soon as you feel a cold sore starting to develop, soak a cotton swab in pure vanilla extract.
Apply it directly on the sore and leave it on for a few minutes.
Repeat 4 to 5 times a day for quick healing.
Must read: How to Get Rid of Fever Blisters?
7. Cornstarch
Who would have thought that cornstarch can be used to actually treat cold sores? Apparently, it works really well in getting rid of this nasty infection. Cornstarch paste can help in reducing and eliminating inflammation. It is also a great way to get rid of the itchiness that comes with cold sores.
Mix cornstarch and water to make a smooth paste.
Apply the paste evenly on the sores.
Leave it on until it dries and then rinse off with water.
Repeat 4 to 5 times a day and you will see excellent results in no time.
Also read: How to Heal Mouth Ulcers?
8. Licorice Root
Licorice root contains glycyrrhizic, an acid that prevents the virus from growing and developing. When used in combination with petroleum jelly, it can help in speeding up the healing process. If you have licorice root at home, use it to get rid of cold sores and prevent them from popping up again in the future.
Mix 1 tablespoon of licorice root powder and 1 to 2 tablespoons of petroleum jelly to make a paste.
Apply the paste on the sore and let it stay until it is dry.
Repeat once every couple of hours until the sore heals.
Must read: Home Remedies for Treating Geographic Tongue
As you can see, getting rid of cold sores is quite easy, especially when you are bound to have one or two of these ingredients at home. Apart from using these home remedies, eat a healthy balanced diet that boosts your immunity so that your body can fight against the sore-causing virus. With this in mind, say goodbye to ugly, painful cold sores!