How to Get Rid of Chapped Lips?- Soft and voluptuous lips is every woman's dream! And, chapped lips are no less than a nightmare! It is generally during winter when the humidity is low, that lips begin to crack. But, frequent exposure to sun can lead to chapped lips too. Another very common reason behind chapped lips is habitual licking that saps the lips of moisture and makes it dry!
While you can buy yourself a dozen over the counter lip salves and balms, the best way to treat chapped lips is home remedies. Your lips, speak volumes about your personality, and it is time you give them some TLC that they deserve.
Here are a few home remedies for chapped lips that are tried and tested, and do work!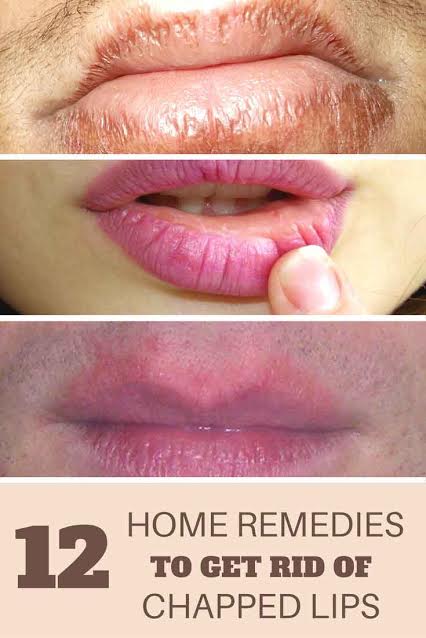 13 Home Remedies to Get Rid of Chapped Lips
1. Sugar
A spoonful of sugar is all you need to restore the softness of your lips. Sugar helps in exfoliating dry skin cells on your lips and revealing softer and supple lips.
Mix a teaspoon of honey with two teaspoons of sugar. Apply this paste on your lips and allow it to dry. Once it dries, use your fingers to gently massage it into your lips. This will act like a scrub and gently loosen up all the dead skin cells.
Also read: Natural Home Remedies to Get Soft and Pink Lips
2. Rose Petals
If you have a rose plant at home, then you are in luck because roses can moisturize your lips and enhance its colour naturally. In fact, many claim that this is the best home cure for chapped lips!
Wash a handful of freshly plucked rose petals till they are clean of any chemical fertilizers and insecticides. Soak them in a bowl of milk for a few hours. You may also soak them in glycerin. After a couple of hours grind this into a thick paste and apply to your lips. Do this every day before you go to sleep.
Must read: How to Get Rid of Fever Blisters?
3. Castor Oil
This is an age old remedy that helps greatly in moisturizing dry and chapped lips. This thick not so fragrant oil can make your lips soft and beautiful with regular use.
Apply a coat of castor oil on your lips and follow up with some Vaseline daily. You will notice your lips begin healing and turning supple in less than a week. You can also mix castor oil with glycerin to fasten the healing.
Also read: How to Get Rid of Scars on Face?
4. Water
As surprising as it may seem, dehydration can cause chapped lips! So, simply start drinking water and you will see your lips get better almost instantly. Also, it is mandatory that you drink a tall glass of water soon after you wake up and one before you hit the sack. This will help flush out all the toxins in your body and help in treating dry and chapped lips.
Must read: 10 Home Remedies for Acne
5. Aloe Vera
Aloe is your skin's best friend. It moisturizes your skin, makes it soft and supple, and even helps get rid of scars naturally. But, did you know that it is also one of the best known natural remedies for chapped lips?
Use freshly extracted aloe vera gel on your chapped lips every day. This will reduce inflammation, arrest pain and moisturize your lips. If you find the taste appalling, mix it with some honey prior to application.
Also read: How to Get Rid of a Hickey Fast?
6. Cucumber
As a refreshing veggie, the cucumber has been lauded to be rich in water content. It can naturally heal chapped lips and make them soft in no time!
Cut a few slices of cucumber and gently rub against your dry lips. Let the juice permeate into your lips. Leave it on for a few minutes and wash off with warm water. You may do this as many times in a day as you please. The more the better!
Must read: Home Remedies to Cure Mouth Ulcers
7. Milk Cream
If you haven't tried milk cream yet, then it is time you did. Milk cream is rich in fat content and surprisingly does a great job at curing chapped lips. It seals in moisture, repairs damaged cells, speeds up healing and protects your lips from inflammation!
Simply apply a generous coating of milk cream on your chapped lips and let it dry. Use a cotton dipped in lukewarm water to clean up your lips. Do this every day to fasten the healing. You may also use unsalted butter to cure dry and burned lips.
Also read: Household Natural Toothache Remedies
8. Baking Soda
For severely chapped lips, try baking soda. Wet a clean toothbrush and sprinkle some baking soda on it. Then, gently brush your lips with it to exfoliate dead cells and remove the flakes to unveil soft and tender, rosy lips.
Must read: How to Get Rid of Canker Sores Fast?
9. Mustard Oil
Though this may sound counter-intuitive and totally ridiculous, applying a blob of mustard oil on your navel can help soften your lips. This is an age old Ayurvedic remedy that works like a charm. Heat a teaspoon of mustard oil and massage it into your navel at bed time. Do this religiously and prepare yourself to witness magic!
Also read: How to Grow Eyebrows Naturally?
10. Coconut Oil
If your lips hurt and bleed, use some coconut oil from your vanity case. Coconut oil can help heal chapped lips caused by both cold and dry weather. All you need to do is to apply some virgin coconut oil several times a day on your lips. You may also add a few drops of olive oil or mustard oil to hasten healing.
Must read: How To Get Rid Of Dark Circles Under Eyes?
11. Glycerin
You can use glycerin in combination with other remedies, or use it as a stand-alone. Whichever way you do, glycerin will transform your dry and chapped lips in no time at all. This sweet tasting nectar increases the moisture levels in your lips and relieves you of dryness. Apply a few drops of glycerin to your lips to get the baby soft lips that you have always dreamt of!
Also read: Benefits and Uses of Rose Water For Skin, Hair, Eyes, Teeths & Gums
12. Sunscreen
Extreme temperatures as well as prolonged exposure to the sun can make your lips dry. Hence, avoid stepping out when the sun is high up in the sky. If you really have to, use a good sunscreen to protect your lips from the UV rays emitted by the sun. Use lip balms with SPF which are easily available at any drugstores these days.
Must read: How to Get Rid of Bruises Fast?
13. Iron Supplements
If you have tried OTC lip balms and home remedies in vain, you may be suffering from a deficiency of iron. Headache, fatigue, and chapped lips are a few of the many symptoms that indicate an iron deficiency. Pop in iron supplements and you will see the headache fade off and your lips will get softer too!
Also read: How To Get Rid of a Headache?
Chapped lips can be rather painful and bothersome, but fret not, try these simple remedies and bid chapped lips goodbye!