How to Get Rid of Scars on Face : Do you have scars on your face that make you feel self-conscious all the time? Scars can be a result of accidents, scrapes, acne, burns, insect bites, chicken pox, vaccinations and surgical cuts. But no matter how you got yours, with the right remedy, you can remove it and have beautiful, blemish-free skin in no time at all! So here are some simple yet effective remedies that can help you get rid of scars on face.
Here is a look at some of the best ways to get rid of scars on your face naturally.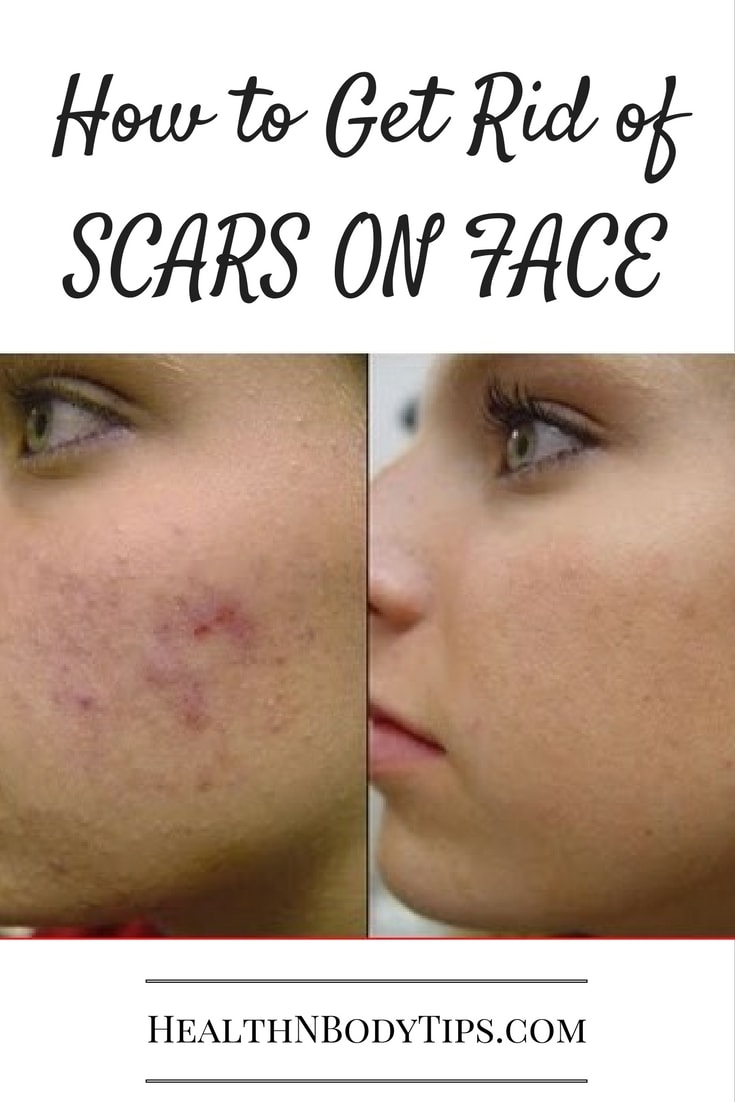 How to Get Rid of Scars on Face? Get Rid of Red Spots on Face
1. Aloe Vera
Thanks to its antibacterial and anti-inflammatory properties, aloe vera is an excellent natural remedy for scars. Aloe vera works as a natural emollient that helps in repairing your damaged skin and promotes the growth of healthy, new skin. It will also improve the texture of your skin. Aloe works better than even the best pimple marks removal cream on the market!
To use:
Take an aloe vera, peel off its outer green layer and scoop out the gel-like substance.
Apply the gel on your face, concentrating on the area of your scar. Massage in gentle, circular motions.
Leave the gel on for 30 minutes or so and then wash it off thoroughly.
Apply aloe vera gel on your face 2 times a day to get rid of any scars you have.
Keep in mind that if you have any open wounds, you should not apply aloe vera gel.
Also read: 8 Best Home Remedies for Acne Scars
2. Coconut Oil
Want to know another secret to fading away scars on your face? Coconut oil! This oil is hands down the most effective remedy to treat scars on the face. This magical oil contains Vitamin E which is an excellent antioxidant that does wonders to your skin, like speeding up its healing process and preventing new scars from forming. What is more, coconut oil contains lauric, capric and caprylic acids that promote the healing of damaged skin, stimulate the production of collagen and also reverse the damages caused by free radicals.
To Use:
Liquefy some extra-virgin coconut oil by heating it.
Put a few drops of the warm oil on your palm and massage it onto the scarred areas of your face for 5 to 10 minutes.
Leave it on for a minimum of 1 hour, so that you can allow your skin to absorb the oil.
For best results, repeat the remedy 2 to 4 times every day.
Must read: 15 Home Remedies For Dry Skin
3. Lemon
What is it about lemon that makes it so great for skin problems? Well, for one, it is a rich source of alpha hydroxy acids (AHAs), a substance with healing properties that can help in the treatment of all types of scars. Lemon can effectively remove dead skin cells, improve skin elasticity and boost the growth of new skin cells along with regenerating damaged skin, all thanks to its Vitamin C.  Last but not least, this beneficial citrus fruit has natural bleaching properties that help in lightening scars.
To Use:
Apply some fresh lemon juice on the affected areas on your face. In case of sensitive skin, just dilute the lemon juice with equal amounts of Vitamin E oil or rose water before applying on the scar.
Leave it on for 10 minutes and then rinse it off with warm water.
Do this once a day until you notice the scar fading away.
Remember that lemon has the ability to make your skin photosensitive, so avoid exposing your skin to the sun's rays immediately after using this remedy and always use sunscreen when you go outdoors.
Also read: 48 Mind-blowing Benefits and Uses of Lemon Peels
4. Lemon and Honey
If you want to know how to get rid of pimple black marks, then lemon is your answer! Lemon. like you already know. is an excellent natural bleaching agent. It fades away not just scars on the face but also freckles, and evens out your complexion without any side effects. When combined with honey that is famous for its moisturizing properties, you get a potent scar remedy!
To Use:
Mix 1 tbsp of lemon juice, and one tbsp. of honey in a cup. To this, add a few drops of almond oil and milk and combine.
Apply this mixture to your face for at least 10 days to see your scars diminish.
Must read: 51 Amazing Beauty Benefits Of Honey
5. Olive Oil
Are you wondering on how to remove old scars on the face? You have hit the right page! Another effective natural scar removal method is olive oil. It is an excellent source of Vitamin E, which keeps skin moisturized and soft and in turn heal damaged skin. This means you can use this oil on even the most stubborn and oldest of scars and see a remarkable improvement. For best results from olive oil, make sure to use quality extra-virgin olive oil.
To Use:
Warm up some extra-virgin olive oil and apply onto the affected areas on your face. Massage the oil in, using gentle circular motions. Do not wash it off right away; leave it on for at least half an hour and then wipe off with a clean, soft cloth. If you believe it does more good, then you can leave the oil overnight too.
You can also mix some extra-virgin olive oil with a few drops of lavender oil, apply it to the affected area and massage gently for about 5 minutes. Allow the oil to stay on your face for 20 to 30 minutes and then cleanse as usual afterwards.
You can use either one of these remedies several times a day until your scars fade away.
Also read: Top 17 Health Benefits Of Olive Oil
6. Cocoa Butter
Don't you just love the scent of cocoa butter? Now, not only do you get to smell it every day, but you also get to remove those unwanted scars on your face. Cocoa butter is a fantastic natural moisturizer that can heal all types of scars. It penetrates deep into the skin and keeps the scarred area moisturized for a longer period. This in turn helps in promoting the growth of new skin tissues to replace the damaged ones. Additionally, cocoa butter contains Vitamin E which works wonders in repairing skin. This is one of the best home remedies to remove old scars on the face.
To Use:
Take a spoonful of cocoa butter and apply it on the scar. Massage it in firm but gentle circular movements.
Leave the cream on overnight and rinse it off the following morning with lukewarm water.
Do this every day until your scar fades.
Must read: How to Get Rid of Ingrown Hairs?
7. Baking Soda
This is yet another very popular remedy that is bound to work on scars. Baking soda has exfoliating properties that can be put to use in reducing scars on the face. The coarseness of this kitchen ingredient helps remove the dead cells on your face ever so gently, to reveal younger and more radiant looking skin naturally!
To Use:
Take a few tablespoons of baking soda and combine with water in a bowl. Mix together until there are no lumps in the paste.
Using your finger tips, gently massage this into your skin.
Leave the paste on your face for about 15 minutes and wash off with warm water.
Use olive oil to moisturize your skin after this regimen.
Repeat this at least three times a week for best results.
Also read: How To Get Rid of Cystic Acne?
8. Raw Potato
If you are unsure as to how to remove wound scars from the face, your worries are justified. Wound scars can take forever to heal. If you have the patience to wait and time on hand, there is no better remedy for facial scars than raw potatoes.
To Use:
Take a potato and peel the skin. Make round slices.
Take a slice and rub it into affected parts of the skin in gentle circular motions.
Do this until the potato goes dry.
Use another slice and repeat the same steps for about 15 minutes.
Allow the potato juice to be absorbed into the skin.
Wash your face with lukewarm water after 20 minutes and follow-up with a good moisturizer.
Must read: How to Get Rid of a Hickey Fast?
9. Raw Tomatoes
From potatoes to tomatoes, these are veggies that can do wonders in treating scars on the face. What's more? They are readily available in your pantry and do not cause a hole in the pocket. Tomatoes have bleaching properties and are yet gentle on the skin, making them a worthy contender in the list of remedies to treat scars on the face.
To Use:
There are two ways you can use tomatoes on your skin to treat acne and other scars on the face.
Method 1:
Take a ripe juicy tomato and cut it into cube like pieces.
Crush these pieces using a spoon or blender to make a pulp out of the tomato.
Use your finger tips to gently massage this pulp into your skin.
Leave it on for about 20 minutes, if not more.
Repeat this daily at bed time.
Method 2:
Make a pulpy paste out of tomatoes, using a blender.
Grate a few avocadoes and cucumber and extract its juice into a bowl.
Mix the extract with the tomato pulp and mix together.
Apply it on the affected area and let it stay for 20 minutes.
Wash off with warm water.
Repeat daily till the scars begin to fade off.
Also read: How To Get Rid Of Stretch Marks?
10. Tea Tree Oil
Tea tree oil, like many of you may already know, has antiseptic properties. It is an anti-fungal, anti-bacterial and anti-viral essential oil that has been used since time immemorial in treating various skin ailments. Not only can this oil treat acne, but also scars left behind acne. It can be also used to treat other sort of scars on the skin. The oil has anti-inflammatory properties and moisturizes and hydrates the scar, thus helping it heal and slowly diminish.
To Use:
Dilute some tea tree oil with water.
Using a cotton ball, dab the oil onto affected areas.
Repeat this a few times a day for at least 2 weeks.
Must read: Top 15 Health Benefits of Tea Tree Oil
11. Apple Cider Vinegar
How to remove scars from face quickly? This is a question that plagues every young teenager. But, fret not for we have just the remedy for you! ACV is a natural disinfectant and astringent that can help in treating the toughest and most stubborn scars on the face. It gently exfoliates the skin and thus helps reduce scars on the face naturally. You can use diluted ACV on your skin, or make a pack of ACV and honey to treat the scars. Read on to know more on how to use this vinegar to get clear and blemish free skin.
To Use:
Method 1:
Mix ACV with water in a bowl.
Use a cotton ball to apply this to your scars.
Leave this on for ten minutes and wash off.
Repeat this once a day for best results.
Method 2:
Mix two tbsp. of ACV in 2/3 cup of water along with 2 tsp of honey.
Using a cotton ball apply this mixture to your face.
Let this stay for at least half an hour. The longer the better!
Wash off using warm water and follow up with some moisturizer.
Also read: 15 Health Benefits of Apple Cider Vinegar
12. Vitamin E
If you are one of those beautiful damsels who like to pamper their skin, you will know that Vitamin E is the perfect skin tonic you can stumble upon. This vitamin moisturizes the skin naturally and helps in combating scars on the skin. Application of Vit E, will hydrate your skin and reduce the scars over a period of time. You may also use Vit E capsules to get rid of scars naturally!
To Use:
Steam your face for a few minutes till the pores open up.
Apply a few drops of Vitamin E oil to your skin.
Using your fingertips, gently massage this oil into your skin till the oil is absorbed and assimilated.
Leave the oil on your face for half an hour and wash it off with cold water.
Do this every day before you hit the sack!
Must read: Vitamin E Benefits and Uses for Your Skin
13. Cucumber
Walk into a salon or spa for a rejuvenating facial and they are always bound to use cucumber in some form or the other. This refreshing veggie contains Vit A, C and magnesium and is also super hydrating. Regular use of cucumber can help diminish scars on the face naturally.
To Use:
Buy a pack of organic cucumber the next time you visit your local market.
Peel the skin and cut the cucumber in thin slices
Place these slices on your face and eyes.
Lie down for about half an hour and allow the cucumber to do its trick.
Rinse your face with cold water and repeat daily.
Also read: Unbelievable Benefits & Uses Of Cucumber
14. Rosehip seed oil
This underrated oil is a class by itself and makes an integral part of most skin care regimens. It helps in promoting naturally healthy skin. This light weight, non-greasy oil is the best acne scar removal cream you can find. It is rich in fatty acids and also contains trans-retinoic acid- which is a natural form of the much talked of Vitamin A.
To Use:
Massage this oil into your skin using your fingertips.
Let it stay for a few minutes before you wash it off.
Use a derma roller in conjunction with 100% organic form of this oil for better results.
Must read: How to Get Rid of Moles?
15. Sugar Scrub
Now who doesn't love a spoon of sugar? It alleviates your moods and brings a smile on your face almost instantly! What if we were to say that you can use sugar to treat acne scars and redness from acne? Music to the ears, ain't it? Sugar cane is said to contain, glycolic acid that helps exfoliate dead skin cells and also promotes cell regeneration. Using sugar to treat scars, is as easy as can be.
To Use:
Mix 3 tsp of organic sugar, 2 tsp of olive oil and a few drops of lemon juice in a bowl. Ensure that the mixture is not too watery.
Use your fingers to gently massage this this scrub on your face every alternate day.
Leave on for at least 15 minutes and follow up with a herbal moisturizer.
Also read: 12 Home Remedies To Get Rid Of Whiteheads
16. Turmeric Powder
If you are fed up of scars on your face and have tried every remedy to get rid of scars, in vain, it is time, you try our good ol' turmeric. This kitchen ingredient can do only good to your skin – and plenty of it! Turmeric has antiseptic properties that will not just help treat a bout of acne but also diminish the scars left behind by acne.
To Use:
Mix 2 tsp of milk with 2 tsp of turmeric in a bowl.
Apply this mixture to your face and leave it on for half an hour.
Wash off with lukewarm water and moisturize.
Apply this twice a day for as long as it takes for the scars to diminish.
Must read: 12 Natural Remedies To Get Rid Of Blackheads
17. Rose Water, Lemon Juice and Glycerin
These 3 ingredients spell bliss to the skin. It is one of the oldest and popular face toner pack known to man. Regular use of this pack will help reduce the appearance of scars on the face. While lemon juice bleaches the skin naturally, the other two ingredients moisturize and nourish the skin from within.
To Use:
Mix one tsp of glycerin with one tsp of freshly extracted lemon juice.
To this add about two large spoons of rose water.
Apply this mixture to affected areas and leave it on for twenty minutes.
Wash off with water and pat dry.
Also read: Benefits and Uses of Rose Water For Skin
18. Fenugreek seeds
If you have stubborn acne scars that refuse to go, fenugreek seeds may do the trick. This kitchen ingredient has a long history of being used in treating several skin ailments. It contains powerful anti-oxidants that help in evening out of complexion and also helps reduce inflammation caused by pimples. Try this natural remedy to get rid of scars on the face in no time at all!
To Use:
Heat a small pan over medium heat.
To the heated pan, add two cups of water and fenugreek seeds and let it boil.
Grind the mixture until it has a glue-like consistency.
Apply small portions of this mixture to the scars and leave it for 15 minutes.
Rinse your face with lukewarm water. This remedy can be used to treat acne as well.
Note: Do not leave this glue on your skin for more than 20 minutes.
Must read: 12 Natural Remedies For Skin Tag
19. Egg Whites
The white of an egg has influential skin mending qualities that can help treat scar ridden skin. They also contain skin-friendly proteins and amino acids that tighten the pores and thus avert acne break outs. Regular use will help lighten scars on the face while also moisturizing it.
To Use:
In a small bowl, whip the whites of two eggs till it is white and feathery.
Now, use your fingers to spread this white on your skin, focusing on the scars.
Allow the egg whites to dry on your skin and wash off with warm water thereafter.
Repeat this twice a week.
Note: If you have very dry skin, use olive oil after washing your face.
Also read: Egg White Face Packs to Get Beautiful Skin
20. Onion Extract
When applied regularly, onion extract is said to help reduce the appearance of ghastly scars on the face. Onion contains several bio-flavenoids such as cepalin and quercetin that have the ability to not just lighten scars but also reduce their size. You will need to use the juice of onions for about four weeks to see an improvement in the scars. The results will be worth the wait!
To Use:
There are more than one ways to use onions to treat scars on the face.
Method 1: Onion and Oatmeal
Peel a large onion and blend it in a food processor.
Cook a handful of oat meal in water for about 20 minutes.
Once the oats has cooled mix it with the onion paste.
Add a tsp of honey to this.
Spread this paste like a mask on your face and let it stay for 20 minutes.
Rinse with warm water.
Method 2: Onion Tincture
Preparing a tincture of onion is rather simple.
Mix half a cup of finely chopped onion in a bowl of olive oil.
Cover the bowl and set it aside for about two weeks.
Using a sieve or cloth, strain the oil.
Using your fingers, massage this into your skin and let it stay for 15 minutes.
Wash off with cold water and pat dry.
Must read: How To Use Onion For Hair Growth?
Forget about expensive store-bought products that promise to remove your scars on face quickly, but do not work at all. You will get much better results using natural ingredients that have magical powers on your skin, including removing scars. Instead of spending lots of money on products sold in stores, choose natural ingredients that you are sure to find right at home and use them to naturally get rid of scars and get beautiful, healthy skin. So, what are you waiting for? Try these effective remedies to treat scars on your face today!