Also known as chronic non-progressive headaches, chronic daily headaches, or stress headaches, tension headaches are common among teenagers and adults, and cause mild to moderate pain. These types of headaches come and go over time. Most people treat headaches, tension and other types, with over-the-counter or prescription medications. However, you should consider natural treatments as they are much safer and usually benefits your health in other aspects too. Plus, you are less likely to become dependent on them. Without further ado, here is how to get rid of tension headaches.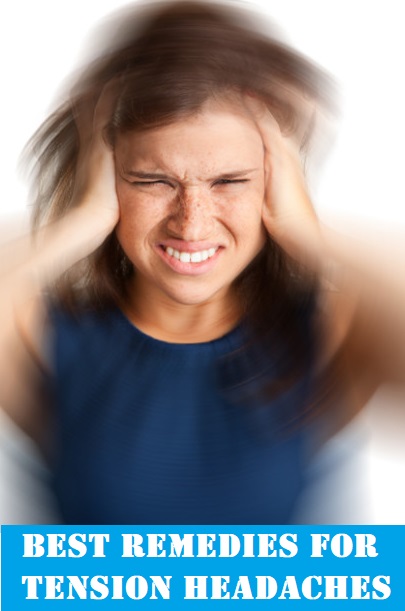 10 Natural Ways to Get Rid of Tension Headaches
Here is a look at the natural ways to get rid of tension headaches:
1. Cayenne Pepper
Wondering how something spicy can help with your headache? You will be surprised to know that cayenne pepper is well known as an effective natural remedy for treating pain and inflammation. It is even used in the natural treatment of cramps and conditions like arthritis. This is due to its active compound, capsaicin, which has the ability to inhibit Substance P, one of the things that makes a person feel pain. This is what makes cayenne pepper an excellent natural treatment for tension headaches.
Add 1/4 teaspoon of cayenne pepper to 4 ounces of warm water and stir well.
Soak a cotton swab in the solution, ensuring that the cayenne pepper powder covers the swab.
Apply the swab inside each nostril gently until you can feel the pepper's heat.
It will feel a little unpleasant initially, but this is a sign that the remedy is working.
The burning sensation will subside and relieve your headache significantly.
Use as and when you need to.
Related: How To Get Rid of a Headache? – Natural Headache Remedies
2. Apple Cider Vinegar Compress
When it comes to natural remedies, apple cider vinegar is undoubtedly one of the most popular ingredients due to its powerful medicinal properties. From hay fever to scurvy, and almost any other medical issue in between, this potent vinegar can effectively treat various conditions and provide relief. If you feel a tension headache coming on, use apple cider vinegar to get much-needed relief.
Pour 1/4 cup of apple cider vinegar into a bowl filled with 3 cups of boiling water.
Place a towel over your head, ensuring that it is draping over the bowl to trap the steam.
Hold your face over the bowl and breathe in and out.
Do this for 5 to 10 minutes.
Once done, pat your face dry and drink 1 glass of cool water.
Follow this remedy whenever you have a tension headache.
Related: 9 Best Home Remedies For Migraines | Remedies For Migraine Treatment
3. Fish Oil
It has been found that ingesting fish oil can help to get rid of tension headaches and migraines. This is due to the omega-3 fatty acids it contains as well as other ingredients that may help in reducing inflammation and blood clotting, steadying heart rhythm and lowering blood pressure. Fish oil may help in relieving headaches as it may reduce blood cell inflammation that presses and pinches on nerves.
Mix 1 tablespoon of fish in 1 glass of orange juice.
Drink the mixture.
Do this when you feel a tension headache coming on.
You can also take fish oil supplements. However, you should consult your doctor before taking these capsules.
Additionally, make oily fish a part of your regular diet to keep tension headaches at bay.
Related: How to Get Rid of a Hangover? Top 10 Home Remedies To Cure Hangover
4. Lavender or Peppermint Essential Oil
Essential oils are known for their magical healing properties, each one with its own unique powers. You can use these oils to treat tension headaches and soothe your nerves. Inhaling the aroma of lavender or peppermint essential oil may help in relieving the pain that comes with tension headaches.
Take a few drops of lavender or peppermint oil and mix with olive oil or any other carrier oil.
Massage your temple and forehead gently with the oil blend.
Breathe in to take in the scent of the essential oil.
Continue for a few minutes or until you find relief.
Related: Best 9 Home Remedies for Vertigo Treatment – Learn To Treat Vertigo!
5. Breathing Exercise
You might think that you are breathing normally, but if you have a pounding headache, it is likely that you are not getting the most of the oxygen you breathe in. When you are under stress or in pain, your breaths will be shallow. Breathing exercises can help you get the oxygen you need and help in relaxing your mind and body. Here's a breathing exercise that can help you get rid of tension headaches.
Take deep, full breaths starting in your diaphragm.
Breathe in to fill up your lungs and slowly exhale.
Continue doing this for several minutes so that fresh oxygen circulates through your blood and relieves the pain brought on by the headache.
Related: How to Get Rid of Nausea? – Top 20 Natural Home Remedies For Nausea
6. Exercise
There is a reason why tension or stress headaches have their name – they are usually brought on by stress and tension. Exercise is a great way to keep stress and tension away. Daily physical activity can help in easing these issues and make you feel revitalized and energetic. You do not have to do strenuous exercises to keep tension headaches away. The idea is to use physical activity to reduce the frequency of this problem.
Go for a brisk walk for 30 to 45 minutes every morning and evening.
Bicycling and swimming are excellent activities that benefit your body and improve overall health.
You can also join aerobics or yoga classes to engage in exercises that help in keeping tension headaches away.
Related: Home Remedies for Chest Congestion – How to Get Rid of Chest Congestion?
7. Hydrate
In some cases, headaches can be caused by mild dehydration. This is why it is important to drink plenty of fluids to keep your body hydrated. Drinking lots of water can not only help you get rid of tension headaches, but also flush out toxins and impurities that affect your immunity and health. Avoid caffeinated as well as alcoholic beverages. Lack of food can also trigger headaches, so eating something might help.
Drink plenty of water and other fluids throughout the day to prevent dehydration.
Drink a solution of water mixed with salt and sugar to replenish the electrolytes in your system.
Related: 6 Home Remedies to Get Rid of Mold Allergies & Prevent Its Recurrence
8. Almonds
Feel a headache coming on? Eat some almonds instead of popping a pill. For tension-type headaches, almonds can be an excellent natural treatment and are healthier than OTC and prescription medications. It contains salicin, which makes it act as a pain reliever. Salicin is a common ingredient in a number of popular OTC painkillers.
Eat 1 or 2 handfuls of almonds when you feel a tension headache starting to set in.
Make almonds a part of your daily snack routine to keep tension headaches away and gain other health benefits.
Note: Some people suffering from migraines may find that almonds trigger the pain.
Related: Guidelines and Home Remedies to Help You Get Rid of Jaw Pain
9. Hot or Cold Compress
If you often suffer from tension headaches, you might find a hot or cold compress helpful in providing relief. Some people find a hot compress more effective while a cold compress works better for others. You can try both out to find out which one works more effectively in helping you relieve the nagging pain.
Soak a soft cloth in ice cold water and wring to get rid of the excess water.
Place the cloth on your forehead and leave it on for a few minutes.
Repeat until you feel the headache has eased or gone.
You can also use a cold pack, a bag of ice wrapped in cloth or a bag of frozen peas.
You can follow the same process with warm water to soothe away your tension headache.
Related: How to Make Yourself Throw Up with Home Remedies?; Tips & Remedies
10. Ginger
Ginger is known to have many beneficial properties that make it an excellent natural remedy for a wide range of health conditions and ailments. It is known to be effective to get rid of tension headaches as well. It is a simple way to relieve the pain as well as prevent it from occurring.
Cut 3 slices of raw ginger, roughly the size of a quarter.
Boil the ginger slices in 2 cups of water.
Cover the utensil and let it simmer for 30 minutes.
Strain and slowly sip on the tea and relax.
Add ginger to your cooking to keep tension headaches away and gain the goodness that this herb has to offer.
Related: 6 Sure-Fire Home Remedies for Sleep Apnea to Help You Sleep Better
Headaches can be painful and make you feel down. Although it is easy to just pop a pill to get rid of it, it is much safer and beneficial to use natural remedies. You do not have to worry about side effects and some of these natural treatments also offer other benefits. The next time you feel a tension headache starting to set in, look around your home and you will likely find an excellent remedy to get rid of tension headaches effectively.