There are various types of insurance policies available and people opt for them to safeguard their assets including life. A majority of the people buy life insurance policies- as it is. However, not all life insurance plans are the same. If you want a life insurance that offers maximum benefits and wider coverage for yourself and family members, buying a term insurance plan makes sense.
What is Term Insurance?
Basically, Term insurance is a kind of life insurance plan that offers coverage for a specified period, measured in years. In case the insured person passes away within the period, a sum assured or cumulative amount is paid to the nominees. However, no payout is offered if the insured person survives the term. So, this type of life insurance offers life cover to the insured person and his/her family gets some form of financial security.
Why do people prefer term insurance?
It is not without strong reasons that people opt for term plans. The advantages include:
These are better than

endowment plans and the insured person can get higher life cover at affordable premiums. Not everyone is keen on policies that offer savings or money back options.

The policyholder is eligible for riders atop the term plan. This actually makes the policy better. For example, you may add a critical illness rider to the policy. This will safeguard you from costs incurred by treatment of such ailments. You will still be eligible for death benefits of the policy. There are other riders too, including disability cover.

Some term insurance plans let you enhance

life cover at important stages of life. This can be done when you tie the marital knot or become a father/mother.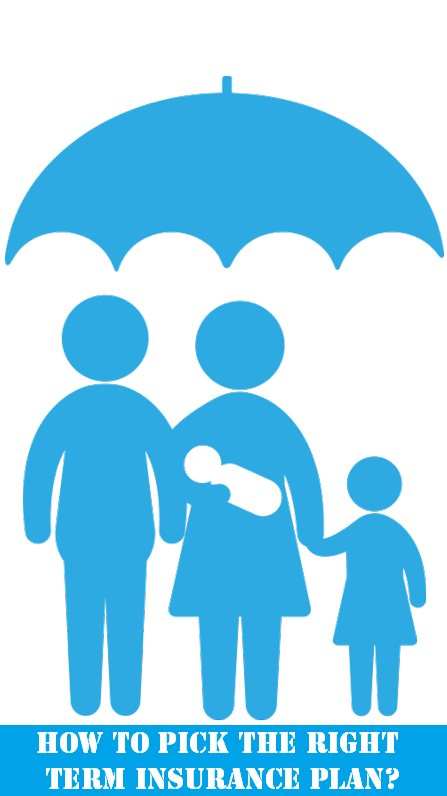 Learning about health factors impacting life insurance premiums
The premium for a life insurance, whether it is a term plan or endowment policy, may get affected by certain factors. One of these is BMI. The body mass index is used to determine your health status and this is used to assess your life expectancy and probability to get affected by major ailments. This is calculated by measuring height versus weight. All major insurance companies offer online BMI Calculator on their websites. You have to complete the calculation before your policy's premium can be finalized- in most instances. In fact, some companies use this aspect to assess viability of various insurance policies for you.
The impact BMI has on an insurance policy
Premium increase

Application rejection in some cases

Need to add riders
In most cases, a BMI exceeding 30 is deemed to be risky from the perspective of healthy weight.
Selecting a Suitable Term Insurance Plan-How to Choose?
You need to buy a term insurance plan fitting your needs well. For that, you have to analyze some basic parameters. These include:
1. The basic coverage areas
Only you know what has the maximum priority in life. These include the number of dependents in the family, other earning members. Type of jobs, medical history, existing loans, etc. Those with a large number of dependents in the family and one earning member should opt for a term plan with longer coverage than others.
Related: 9 Common Health Insurance FAQs
2. Flexibility of the policy
Not all term plans have the same amount of flexibility. You have to think of this aspect when buying a policy- offline or online. For example, you may want to add a rider atop the main policy at a later stage in life. Some policies let you include more family members in future without hiking the premium much.
Related: 8 Important Factors to Consider Before You Buy Health Insurance for Your Family
3. Think of the duration
When you buy a term insurance plan, think of the duration carefully. It is also necessary to consider the factors like the present age, time of retirement, etc. Not everyone takes retirement at the same age and some people may work in other capacities after retiring from a job- as it is. If you are now 35 years old and retirement age is 60, opt for a policy that has a duration of at least 25 years. If you get a bit more coverage- that is even better.
Related: Diseases and Illnesses that Health Insurance Covers in India
4. Inflation does matter
When buying any insurance policy, inflation has to be considered. The amount of money required for living life comfortably may not be same over the years. So, you have to think of the death benefit or cumulative amount in respect to time. What is enough for today may be rather inadequate after 20 or 25 years. So, you have to choose a death bonus amount that will be enough for those dependents for you even after several years.
Related: Everything You Need to Know about Medical Tourism in India
5. Claim settlement rate
All insurance firms use sales pitch and marketing terms, but you should not go by that alone/ Before buying any term insurance, it is quite necessary that you check out the Claim settlement ratio of a specific company before buying its plan. It is also prudent that you get your facts clear on the claim settlement process before signing up for any such policy. You can use the firm website and social media profiles to get fast clear on this.
Related:  How To Choose The Best Cancer-Centric Insurance Plan
6. Exclusions
If there are any exclusion or terms in the policy, you should learn about it. The fact is USP of such policies is the amount paid on death of the insured person and so any loopholes has to be figured out.
Where it all leads to?
So, it is absolutely important that you understand your priorities before buying any term insurance plan. Various factors come into picture and future situation analysis is also involved in that. From inflation and earning level to age of retirement- you have to analyze a lot of things. Ideally, you should buy such policies online rather than buying from offline sources. While the policy benefits remain same, you get the chance to compare various such policies side by side. Sometimes, you may get certain waivers or discounts on the premium by paying online. Besides, using the web also helps you obtain a neutral view and choose the apt plan thereafter.