Home Remedies for Asthma: Asthma is fast rising issue and surely a concern of late due to the increase in dust and pollution that the environment sees on a daily basis. It is a chronic disease that affects air passages resulting in suffocation and congestion in the chest. Asthma also causes swelling in your airway passages which restrict the airflow to the lungs.
If you think that the condition has claimed you as its victim, then look out for these symptoms:
Difficulty in breathing,
Frequent cold and cough,
Congestion in the chest,
Fatigue and
Uneasiness while sleeping.
The common triggering factors for asthma are dust mites, pollen, mold and pet fur. While there's no permanent treatment for asthma, relief can be procured by reaching out to the ingredients in your kitchen. Let's throw some light onto some of the most effective home remedies for asthma.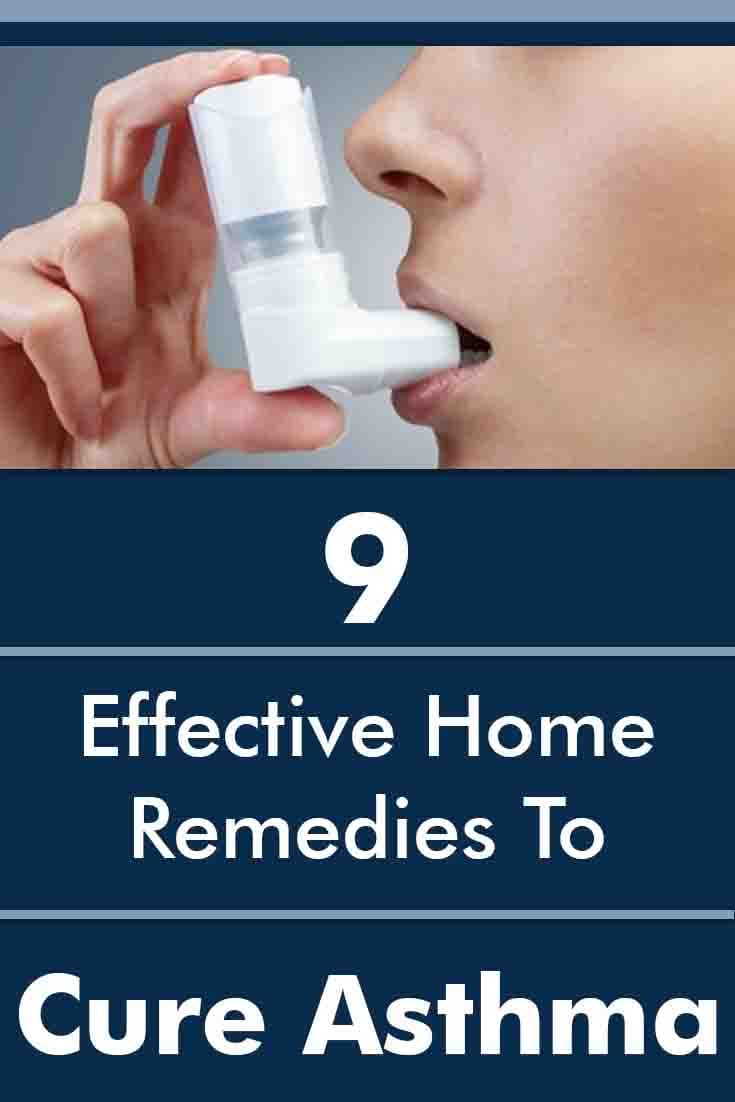 Top 9 Home Remedies for Asthma
1. Cloves
Cloves aren't known for just the tremendous amount of flavor they bring to your meals, but also for the role they play in treating certain ailments. It's no surprise that asthma is one of them. Cloves, when combined with honey, provide relief from the bane that is asthma. It is claimed to works wonder on patients suffering from asthma. When used in an aforementioned manner, it helps to alleviate coughs associated with asthma, making breathing far simpler.
For this remedy:
Place 5-6 cloves in half a glass of water.
Boil for 10 minutes.
Add a tsp of honey to this.
Consume this mixture twice a day for relief from asthma.
Also read: Asthma Treatments and Medications
2. Ginger
Another home remedy for asthma entails the use of ginger. Ginger can be resorted to during a bout of asthma as it helps to clear cough and cold. Ginger is helpful due to the fact that it reduces airway inflammation, thus inhibiting the contraction of the airway passage. This results in muscle relaxation which contributes to easy breathing.
For this remedy:
Take 2 tbsp of ginger juice, pomegranate juice, and honey.
Mix well.
Consume this mixture two or three times in a day.
Must read: Home Remedies for Chest Congestion
3. Mustard Oil
Mustard oil works exceptionally well in the treatment of asthma and this remains to be one of the less exploited health benefits of this wonder oil. Massage the chest area with some mustard oil. This helps in clearing out respiratory passages, thereby easing breathing. Normal breathing will be restored with regular follow up of this procedure.
For this remedy:
To a pan, add 1 cup of mustard oil.
Heat it on a medium flame for 5 minutes.
Add in 2 cubes of camphor while the oil is heating.
Transfer this to a bowl and wait until the oil turns warm.
Massage this warm oil on your chest and upper back.
Do this several times in a day for best results.
Also read: 8 Powerful Home Remedies of Sinus Infection
4. Honey 
There's more to honey than it being a resort to satisfy sweet tooth cravings. It aids in clearing the airway passage, thus relaxing muscles in the process. It remains to be the oldest cure for asthma by reducing symptoms by quite a bit.
For this home remedy for asthma:
Take a glass of water and warm it up.
Add 1 tsp of honey to this water while still warm.
Consume this mixture about three times a day
You can also consume 1 teaspoon of honey with half a teaspoon of cinnamon powder before you go to bed.
Must read: How to Get Rid of a Stuffy Nose?
5. Onions 
Onion boasts of anti-inflammatory properties which help in decreasing the inflammation in your lungs. You can either consume it raw or cooked, as per your liking.
For this remedy:
Take an onion slice it.
Heat some oil in a pan and add the sliced onion in.
Cook the onions until a pinkish hue is noticed.
Remove from the flame and allow it to cool before eating.
If the aforementioned remedy seems a bit much of an effort, then you can also consume it in its raw form.
Also read:  Home Remedies for Bronchitis
6. Gooseberry or Amla
Gooseberries are rich in vitamin C and antioxidants which fight off the free radicals that are produced in the lungs during an asthma attack. It is very effective in curing respiratory diseases as it soothes the airway passage, providing relief from asthma.
For this remedy:
Remove the seed of a few gooseberries.
Crush them so as to make a paste out of them them.
Add one teaspoon of honey to this paste.
Consume this paste every morning to get relief from asthma attacks.
Must read: How To Get Rid Of Bad Breath?
7. Bitter Gourd Root
Bitter gourd tends to remain on the sides of most of our plates, but if you were aware of the health benefits it brings to the table, you'd gobble it up in a single bite! It is an excellent home remedy for asthma, because it treats the obstructive passageway and clears it by relaxing the adjoining muscles. The key lies in the bitter flavor that we seem to flee from.
For this remedy:
Grind the bitter gourd root to form a paste.
To one teaspoon of this paste, add one teaspoon of honey.
Mix well.
Consume this mixture every night before going to the bed.
You could also substitute basil juice in place of honey.
Also read: Top 10 Home Remedies for Laryngitis
8. Mint Leaves
Mint has anti-inflammatory properties that help in treating asthma by soothing the respiratory tract so as to give instant relief from breathlessness. Mint tea would be another option for you to try out in order to get respite from an asthma attack.
For this remedy:
Take 6-8 mint leaves and 4-5 basil leaves.
Crush these leaves and add them to boiling water.
Add 1 inch of a ginger piece to this water.
Add in 4-5 peppercorns.
Take the mixture off the flame and add a teaspoon of honey to it.
Inhale the steam of this mixture to get relief from an asthma attack.
Soon after, you may sip on it slowly.
Must read: 7 Pranayama Techniques For a Better Health
9. Licorice Root
Licorice root is rich in flavonoids which make it a great home remedy for asthma by providing relief from bronchial spasms and inflammation. It also aids in certain lung infections that are caused by bacteria and virus. Licorice Root acts as an expectorant which loosens up the mucus in the respiratory tract.
For this remedy:
Take around 2 tablespoons of licorice root.
To this, add 1 cinnamon stick and 2 cups of water.
Boil this water for 10-15 minutes.
Strain it and consume the tea once it becomes warm.
Drink this tea 2-3 times a day.
Also read: Top 10 Best Home Remedies For Cough
Asthma might not be completely curable, but this doesn't mean to say that home remedies don't give relief when beckoned. Before you reach out to that inhaler of yours, give these home remedies for asthma a try. Let's work our way towards incorporating natural remedies to treat the ailments we suffer from rather than resorting to pills that do the same.