Get Rid of Body Fat Fast: Are you looking for a way to lose a little weight? Have you tried many things without success? Then it is high time you considered natural remedies. There are quite a few effective ones that can help you lose body fat fast. Forget about diet pills and programs that do not do much good for your health. Instead take advantage of nature's gifts and get rid of the body fat you want while receiving other great health benefits as well.
Here is a look at 10 of the best remedies to help you get rid of body fat: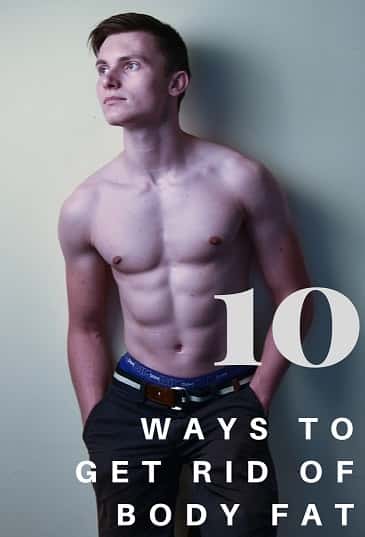 Top 10 Home Remedies to Get Rid of Body Fat Fast
1. Apple Cider Vinegar
It has been found that apple cider vinegar is an effective home remedy for weight loss. Although its actual benefits for weight loss are not known as yet, preliminary research has shown that ACV can help protect against obesity. It helps in breaking down fat, thus preventing the accumulation of body fat.
Note: Keep in mind that you should not take more than 2 tablespoons of apple cider vinegar in a day. If you exceed this amount, in long term it reduces your level of blood potassium and bone mineral density.
Also read: 15 Powerful Yoga Asanas To Get Rid Of Belly Fat
2. Cinnamon Tea
Blood sugar directly affects your weight as how it does with how energetic and how hungry you are. If you have a balanced blood sugar, it is less likely that you will have a dis-proportionally large appetite. Your body is then more likely to use fat, or energy, rather than storing it. Although the debate about its effectiveness is yet to come to a conclusion, several preliminary studies show that cinnamon can indeed help in managing blood sugar levels.
Put 1 teaspoon of cinnamon powder and 1 cinnamon stick in a mug and pour in 8 ounces of boiling water.
Let it steep for 15 minutes and then strain it.
Drink this spicy goodness once to twice a day for great results.
Must read: How to Get Rid of Face Fat?
3. Honey and Cinnamon
Plain cinnamon tea isn't your thing? Then you might want to try it in combination with honey. The combination of these two ingredients will increase your energy, boost you metabolism and detoxify your body – and these effects support weight loss. Plus, honey prevents obesity as it promotes fat metabolism, whereas cinnamon controls your appetite by fighting resistance to insulin and reducing oxidative stress that is linked to metabolic syndrome.
Pour 1 cup of hot water over 1 teaspoon of cinnamon powder – you can use cinnamon sticks if you like.
Let it steep for 30 minutes.
Mix in 1 teaspoon of organic honey.
Drink half of the mixture in the morning on an empty stomach, about 30 minutes before breakfast. Store the leftover in the refrigerator and drink it at night before bedtime.
Also read: How To Lose Love Handles?
4. Fennel
Did you know that fennel seeds can also help you lose body fat? It is believed that the diuretic properties of this spice may be an effective weight loss aid as diuretics can reduce water retention, thus helping you to lose weight quickly. However, keep in mind that this remedy does not help with long-term weight loss.
Dry roast some fennel seeds and grind them. Sieve the powder.
Take ½ teaspoon of the powder with warm water twice a day. This will also help relieve constipation, indigestion and abdominal gas.
Alternatively, you can also drink a cup of fennel tea 15 minutes before meals.
Must read: 3 Best Methods To Get a Perfect Belly
5. Lemon Juice 
You probably already know that lemon juice helps in improving digestion and boosting detoxification, right? But did you also know that it does wonders in eliminating body fat and fighting obesity? One of the essential prerequisites for weight loss is a healthy digestive system, as it ensures that your body gets all the essential nutrients it needs to burn fat. Additionally, it also gets rid of toxins that have been proven to slow down metabolism rates.
Mix 3 teaspoons of fresh lemon juice, ½ teaspoon of black pepper powder and 1 teaspoon of honey in a glass of water. If you are using freshly ground black pepper, add just ¼ teaspoon.
Drink the mixture every morning on an empty stomach.
Repeat this remedy for at least 3 months.
Alternatively, you can mix 1 teaspoon of lemon juice with a cup of warm water and drink it every morning. However, keep in mind that taking lemon juice on a frequent basis is not encouraged if you have gastric issues.
Also read: 3 Easy Ways to Lose 20 Pounds Fast
6. Aloe Vera
You can also use aloe vera to eliminate body fat as it increases energy consumption, boosts metabolism and mobilizes unused fat in the body. This plant contains natural collagen proteins that help the body work harder to absorb the proteins. Aloe vera also removes toxins from the colon and digestive system.
Take 2 fresh aloe vera leaves and peel them.
Scoop out the pulp and blend it with 1 cup of citrus juice, like grapefruit or orange juice, or plain water if you prefer. Blend it for 2 to 3 minutes.
Drink this mixture every day for at least 1 month.
Must read: How to Use Apple Cider Vinegar for Weight Loss?
7. Cayenne Pepper
Did you know that cayenne pepper is great for controlling obesity and boosting weight loss? This pepper is a good source of capsaicin, which stimulates your body to burn fat and increase the use of energy. Additionally, it boosts digestion and suppresses excess appetite resulting from mal-absorption of nutrients in the body.
You can make cayenne pepper tea by mixing 1/10 of a teaspoon of cayenne pepper powder with hot water – start with a small amount of the pepper and gradually increase it to 1 teaspoon.
Squeeze the juice of half a lemon and stir. Drink this tea regularly at for at least 1 month.
You can also mix 10 ounces of water and 2 tablespoons each of lemon juice and maple syrup.
Stir in a dash of cayenne pepper and drink it.
Also, use cayenne pepper and other spices, like mustard seeds, black pepper and ginger, in generous amounts in your meal preparations.
Also read: 5 Psychological Tips for Successful Weight Loss
8. Green Tea
When it comes to natural weight loss, nothing does it better than green tea. A Penn State revealed that a compound that green tea contains called epigallocatechin-3-gallate (EGCG) that slows down weight gain and increases the ability of the body to use fat. Furthermore, green tea is rich in nutrients like Vitamin C, selenium, zinc, chromium, carotenoids, and other trace mineral.
Drink 3 to 4 cups of green tea every day to fight obesity.
For even better results, you can mix green tea with cayenne pepper or ginger.
Must read: Benefits of Rowing Machine Workouts
9. Curry Leaves
According to research, curry leaves contain an alkaloid called mahanimbine that has lipid-lowering and anti-obesity effects. Therefore, it helps in lowering body weight and reducing total triglyceride and cholesterol levels. For an effective, natural way to burn fat, you should definitely try out curry leaves.
Eat 10 fresh curry leaves every morning. This is an excellent Ayurvedic remedy to help treat obesity and obesity-caused diabetes.
Continue this remedy regularly for at least 3 to 4 months for fantastic results.
Also read: How to Increase Testosterone Naturally?
10. Ginseng
There are two types of ginseng that you can use to lose body fat – American ginseng (Panax quinquefolius) and Korean or Asian ginseng (Panax ginseng). They help in boosting energy levels. Without energy, losing weight healthily is nearly impossible. In addition to boosting energy, evidence claims that ginseng can help in managing blood sugar, which in turn affects energy levels and appetite.
Chop 1 teaspoon of ginseng.
Boil 8 ounces of water and pour over the ginseng.
Allow it to steep for 5 to 9 minutes.
You can add lemon juice or honey to taste if you like.
Drink this tea 1 to 2 times every day.
Must read: How to Get Rid of Man Boobs?
As you can see, you do not need diet pills and other weight loss products to get rid of body fat. With natural remedies, you can safely lose the weight you want and achieve your ideal weight without compromising your health.